Every year about this time, the majestic horse-chestnut tree in front of the Lawrence Arts Center looks awful, its gnarled branches nearly naked.
And every year, people call the center, 200 W. Ninth St., wanting to know what's being done to save the tree, one of the city's finest.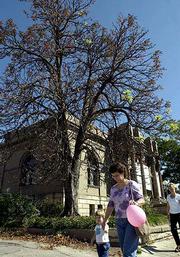 "It's an annual event," said arts center director Ann Evans. "Because it's one of the biggest trees in town and it happens to be on one of the busiest intersections in town, everybody sees it and everybody loves it."
Evans says there's little cause for alarm because, knock on wood, the tree stages a glorious comeback every spring.
Horse chestnuts lose their leaves early in the fall and regain them late in the spring, said Kelly Kindscher, an associate scientist with the Kansas Biological Survey.
"It's not in bad health," Kindscher said. "This is just the time of year when they start winding down."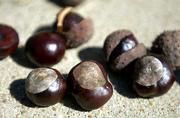 Kindscher said horse chestnuts, also known as buckeyes, are native to Kansas.
"We're on the western edge of its distribution," he said.
The state's largest horse chestnut is thought to be on the Kansas State University campus in Manhattan, measuring 46 feet tall, 38 feet across.
A popular site
The arts center specimen, thought to be about 50 years old, isn't quite that big. Still, it's become the subject of one the city's quiet rituals as passersby children, usually pause to gather fallen chestnuts, many still in their prickly shells.
"I've seen people come and take them away by the bagful," Evans said.
Also, its spike-like flowers put on a short but spectacular show in the spring.
"They look like double ice cream cones," said Crystal Miles, a city horticultural supervisor. "But they only last about five days, usually the first week of May."
City crews water the tree throughout the summer.
"It needs a constantly moist soil," MIles said. "But that site, built up like it is, gets pretty dry, so we water it a lot."
Of the two trees in front of the arts center, the horse chestnut is to the west. A bald cypress is to the east.
The bald cypress, ironically, holds its leaves well into the fall. It's the horse chestnut that goes prematurely bald.
A troubled future
Though it's healthy now, the arts center horse chestnut faces a troubled future, said Bruce Chladny, horticultural agent at the K-State Research and Extension office for Douglas County.
"This is a good example of a tree that's not happy with its environment. It's really stressed," he said, noting how the tree's roots are boxed in by the arts center, the nearby retaining wall and the alleyway.
In an open area, Chladny said, the tree's roots would exceed the reach of its branches by two or three times.
"Here, it obviously can't do that," he said. "In a perfect world, you wouldn't plant a horse chestnut here; a nice ornamental, like crabapple or a red bud, would have been better."
Though the tree stands three stories tall and at least 30 feet wide, Chladny said it would be even bigger if its roots had more room.
"Unfortunately, this is one of those situations where you can't really change anything," he said. "You can't move the tree; you're not going to move the building or the street. So the only to do, I guess, is to encourage people to consider the space that's available before they plant a tree."
Copyright 2018 The Lawrence Journal-World. All rights reserved. This material may not be published, broadcast, rewritten or redistributed. We strive to uphold our values for every story published.