San Diego — Rickey Henderson made sure he didn't go into the winter still waiting for his 3,000th hit.
Henderson became the 25th member of the 3,000-hit club with a bloop double Sunday, doing it in the last game of the season.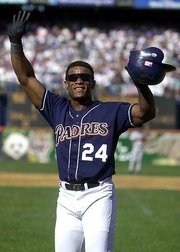 "It's a great feeling, a feeling that you can't really describe," said Henderson, the San Diego Padres' flamboyant 42-year-old leadoff hitter who is baseball's runs, steals and walks leader.
"I thought I would never get there because I walk so much. If you continue to play as long as I've been playing, you get the opportunity to do it."
Ending his 23rd season, Henderson made history in the Padres' 14-5 loss to Colorado.
With the huge crowd on its feet it was Tony Gwynn's final game and the fans got this as a bonus Henderson lofted the first pitch from Colorado's John Thomson toward the right-field line.
Three Rockies converged, but the ball dropped in, about 10 feet inside the line. Henderson chugged into second base standing up, with yet another big number that will eventually adorn his Hall of Fame plaque.
"I knew this was the last day and I thought I'd have four at-bats," he said. "I wanted to take up the whole at-bat and get as many swings as I could get until I got the hit.
"It just so happened I got a pitch inside-out and drove it to right field and it dropped in."
Three days earlier, Henderson broke Ty Cobb's career record by scoring his 2,246th run, homering and sliding into the plate.
The Padres raced out to second base, and Henderson walked toward them with open arms.
Among those greeting Henderson was Gwynn, who got his 3,000th hit on Aug. 6, 1999, and now has 3,141. Sunday was the final game in Gwynn's 20-year career.
Henderson came over to foul territory and got a hug from another member of the 3,000-hit club, Hall of Famer Dave Winfield. Winfield got his 3,000th on Sept. 16, 1993, while with Minnesota.
Winfield, who played with Henderson when they were New York Yankees in the 1980s, is on the Padres' board of directors.
Henderson was presented with a plaque and held it up for the crowd to see. He was presented with the ball by shortstop Juan Uribe, who took the throw from the outfield.
After pulling within one hit of 3,000 on Saturday, Henderson was coy about whether he'd play Sunday. He considered sitting out as a show of respect for Gwynn. But Gwynn and manager Bruce Bochy both wanted Henderson to play.
Second baseman Terry Shumpert, right fielder Mario Encarnacion and first baseman Todd Helton converged on Henderson's fly ball. Shumpert had the best shot at it, but didn't get there in time.
"I thought it was going to come," Thomson said. "I gave up three hits to him in Colorado.
"I'm glad he got it. I'd feel really weird if he had three or four at-bats and he didn't get a hit. Now when someone asks who gave up Rickey Henderson's 3,000th hit, the answer will be, 'John Thomson."'
Henderson eventually scored on Phil Nevin's single, pushing his runs record to 2,248.
Henderson went out to his position in left field at the end of the first inning, and Bochy replaced him with Mike Colangelo. Henderson left to another ovation, hugged each of his teammates in the infield and blew kisses to the fans.
Bochy sent Henderson back out as third base coach in the ninth, when Gwynn made the final appearance of his career, grounding out to shortstop as a pinch-hitter.
Henderson would like to play one more year, but his prospects are uncertain. The Padres didn't sign him until late in spring training, for $300,000, and he started the season in the minors before coming up on April 17. It's unlikely Henderson will re-sign with the Padres, who want to get younger.
Reaching 3,000 hits is remarkable for Henderson because of the high number of walks he's drawn. On April 25, he passed Babe Ruth with walk No. 2,063 to become the all-time leader. He's since pushed that total to 2,141.
Besides being the career runs and walks leader, Henderson has been baseball's stolen base king for a decade.
Copyright 2018 The Associated Press. All rights reserved. This material may not be published, broadcast, rewritten or redistributed. We strive to uphold our values for every story published.