Redwood City, Calif. — Perhaps more than any other Silicon Valley story, the rise and fall of Excite@Home illustrates the land-grab mentality and misguided efforts of the tech boom.
It was like many other companies at the height of Internet euphoria, with an expansive cafeteria, an imposing headquarters, even a slide where employees could zoom down to the ground floor.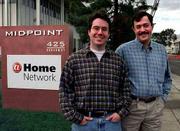 The company spared no expense to attract more "eyeballs" to its Web pages, dropping a mind-boggling $780 million for a greeting card site that it ultimately sold off for $35 million.
But unlike almost all the dot-coms that flunked out, Excite@Home owns something real: a network that provides fast Internet access over cable TV connections.
In fact, many analysts believed at the time that the $6.7 billion deal in 1999 that merged Excite Inc.'s popular Web site with At Home Corp.'s cable-modem business created a powerhouse that could challenge America Online.
Two and a half years later, Excite@Home is the nation's leading provider of fast Internet access. It also is on the verge of bankruptcy.
The company's stock price has crumbled from more than $100 to less than 20 cents, and it lost $7.28 billion in the last four quarters. Needing more funding to operate into 2002, the company has sold off properties and chopped its work force, including a 27 percent cut announced last month.
The chief financial officer quit Sept. 9.
How could the company fall so far so fast? Former executives said that long before the tech downturn, the company struggled to find its focus and was riddled with problems caused by questionable management decisions, perhaps even the merger itself.
"Excite@Home might have been trying too many things at once, at too high a velocity they were really growing for growth's sake, grow at all costs, without much regard for expenses," said John Corcoran, Internet analyst at CIBC World Markets. "This is a textbook example everything that could go wrong did go wrong at the company."
An Excite@Home spokeswoman declined to comment on the company's past problems and said the current CEO, Patti Hart, was unavailable.
Ambitious beginnings
Big ambitions drove the company's founders.
Six Stanford University graduates borrowed $15,000 from their parents in 1993 and launched Excite in hopes of creating a way to manage information on the Internet.
At Home was founded in 1995 by cable industry veterans, high-profile venture capitalists and NASA networking engineer Milo Medin.
Excite quickly became one of the Internet's most popular search engine/portals. Yahoo and Microsoft considered acquiring the company but Excite executives chose a bolder move, combining their content with someone else's distribution. They chose the company based across the street in Redwood City At Home.
At the time, At Home had just 331,000 cable subscribers. But it was poised to satisfy what figured to be a rapacious demand for faster Internet access among people tiring of slow dial-up connections.
Although Excite lost $7.4 million on just $54 million in revenue in its last full quarter as a separate company, At Home's executives liked the demographics of Excite's 20 million registered users, as well as the company's expertise in online marketing.
The companies "optimized" the Excite portal to add features best seen with broadband connections, and boasted they had created the "media network of the next century."
Former Excite@Home executives described a feeling at the company that they were on course to change the way people got and used information.
A now-shuttered part of their 670,000-square-foot headquarters campus even included a mock garage for meetings, to symbolize the fabled humble beginnings of other Silicon Valley pioneers.
The company expanded to 3,000 employees, with operations in Europe, Asia and Australia recent cuts should reduce the staff to 1,350 by year's end and committed itself to spending $30 million a year on office space.
A bumpy road
At Home credits Excite's popularity with helping the cable business grow well, and it now counts more than 3.7 million subscribers who pay $35 to $55 a month.
Excite@Home had exclusive deals to provide Internet access for huge cable TV companies such as Comcast and Cox Communications, both early investors in At Home, along with Tele-Communications Inc. AT&T; became the controlling shareholder in At Home when it acquired TCI.
But that didn't necessarily make life easy.
By November 1999, AT&T; and other cable system owners were openly criticizing Excite@Home for maintenance and customer service problems. AT&T; once had to mollify customers upset with outages by offering them five months of free service.
This June, Cox and Comcast decided to stop offering Internet access exclusively through Excite@Home. Then in August, the companies said they would stop using Excite@Home altogether next year.
Andrew Johnson, a spokesman for AT&T; Broadband, the largest cable company that still has an exclusive access deal, denied that Excite@Home was arrogant or lax. He said "growing pains" were understandable given its quick rollouts of new technology.
But AT&T; has not been entirely supportive. Shortly after the Excite acquisition, AT&T; Broadband's president, Leo Hindery then an Excite@Home board member said At Home never should have linked its access business to a single content provider.
Former executives said Hindery's comments were troublesome. One said it devastated morale.
Unneeded distractions
One of Hindery's biggest complaints was that combining content and distribution thrust Excite@Home into the roiling debate over open access.
A series of lawsuits sought to force cable operators to open their lines to more than one Internet service provider. Excite@Home had to hire lawyers, lobbyists and publicists in a distracting campaign to defend its business model.
Management turned over extensively. The At Home CEO who first led the combined company, Thomas Jermoluk, left a year after the Excite acquisition. His successor, former Excite chief George Bell, announced his intent to quit eight months later. Hart wasn't hired until April 2001.
Analysts also say management fell for its own hype like the braggadocio it used when it claimed tens of millions of cable homes in its worldwide "footprint" a measurement not of its business success but merely its of potential customers.
As it turned out, broadband hasn't grown as fast as many in the industry hoped, and rolling out Excite@Home's network has been more costly than anticipated.
All these issues weakened the company before the punishing downturn in technology stocks and online advertising that began in 2000.
While competitors such as Yahoo and AOL also have suffered, Excite@Home was hit harder because the popularity of www.excite.com waned. Three years ago, the portal was being visited by one-fourth of all Web surfers. According to Jupiter Media Metrix, its reach was 15.4 percent in August 2001.
In the surest sign that few synergies developed between the two sides, Excite@Home now considers the portal a drain on its cable-modem business and has been trying in vain for months to find a buyer.
Copyright 2018 The Associated Press. All rights reserved. This material may not be published, broadcast, rewritten or redistributed. We strive to uphold our values for every story published.