Denver — Sunday afternoons have provided Deltha O'Neal respite from grief and solace from personal pain.
It was four weeks ago that one of his uncles and a cousin were killed in a car accident while driving to see O'Neal play cornerback in the Denver Broncos' season-opening game on Sept. 10.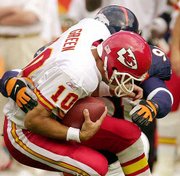 "The passing of my uncle and my cousin a couple weeks ago, that built me up," O'Neal said after tying an NFL record Sunday with four interceptions in Denver's 20-6 victory over the Kansas City Chiefs.
"I'm dedicating this and a couple of the others that I picked off in the season to them. I'm trying to stay out there on Cloud Nine, you could say, to stay focused."
O'Neal, in his first year as a starter, became the 18th NFL player with four interceptions in a game as the Broncos enjoyed a big day in front of former defensive coordinator Greg Robinson, who was fired in January.
Not only did Robinson have to watch O'Neal and the Broncos antagonize Chiefs quarterback Trent Green, but his new defense failed to stop Mike Anderson and Rod Smith, who accounted for nearly 90 percent of Denver's offense.
Anderson ran for 155 yards and Smith had 110 yards receiving. Both scored touchdowns to help the Broncos (3-1) end a four-game losing streak against the Chiefs (1-3).
"Oh, man, it's huge," Smith said. "I went to school in Missouri and all I heard was Chiefs, Chiefs, Chiefs. The most important thing was to get the win, especially against a team that had our number."
While the offense rebounded from a poor performance against the Baltimore Ravens, the defense was the story for the Broncos.
With Robinson now calling the defensive shots for Kansas City, the Broncos sacked Green four times, held the Chiefs to 297 total yards and capped the victory when O'Neal returned his fourth interception 27 yards with 1:46 remaining.
"The same guy got all of them?" Green said. "I've had four picks in a game before, but never all by the same guy."
O'Neal would have been alone in the record book if not for a ball that went through his hands late in the first half.
"I wish I would have had that one, too," O'Neal said.
In addition to being victimized by O'Neal, Kansas City went 3-for-11 on third-down conversions and had few offensive threats outside of All-Pro tight end Gonzalez, who had eight catches for 129 yards. The Chiefs finished 249 yards short of their offensive output a week earlier in a victory over Washington.
"We look great on the practice field. We didn't do it today," Kansas City coach Dick Vermeil said. "Credit Denver. I'm ticked at all of us."
While O'Neal policed the secondary, Denver's offense relied mainly on Anderson. Smith's 4-yard touchdown catch came 5 seconds after O'Neal's 42-yard interception return and gave Denver a 20-6 lead with 8:11 remaining.
It was Denver's third and final pass of the second half as the Broncos challenged Kansas City to stop the run. It was hard to question the strategy. After struggling for yardage last week against Baltimore, Anderson had 106 yards by halftime.
"We ain't lost it yet," he said. "We can still run the ball."
Anderson's 62-yard run gave the Broncos a 7-0 lead in the first quarter, but it should have been a 59-yard run. Replays showed he stepped out of bounds before diving over the right pylon. Two officials conferred before awarding the score.
Kansas City also capitalized on a strange play in the first half. Gonzalez caught a 35-yard pass while sitting on the ground. The ball was tipped by defensive backs Kenoy Kennedy and Jimmy Spencer before fluttering into Gonzalez's hands in front of the Kansas City bench.
Doug Peterson kicked a 35-yard field goal two minutes later to pull the Chiefs to 10-6 at the half.
Jason Elam gave Denver a 13-6 lead late in the third quarter with a 24-yard field goal after an 8:17 drive stalled at the 6.
Notes: Chiefs WR Dante Hall bruised his left shoulder and DE Rich Owens had a rib injury. ... Broncos WR Kevin Kasper twisted his right ankle quarter and CB Denard Walker left with a concussion. ... Kansas City surrendered a touchdown pass to Denver for the first time since 1998, a span of 20 quarters. ... The team scoring last has won the last 12 meetings.
Copyright 2018 The Associated Press. All rights reserved. This material may not be published, broadcast, rewritten or redistributed. We strive to uphold our values for every story published.