Beirut, Lebanon — Sunday's U.S. and British missile attacks against Afghanistan prompted harsh criticism from Iran and Lebanon while bringing yet another element of tension to the already volatile Middle East.
Most governments in the region withheld immediate comment on Sunday's missile attacks, which political analysts said were likely to provoke widespread popular opposition in coming days.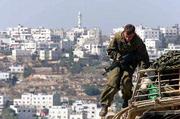 Sunday's attacks followed a bomb explosion in eastern Saudi Arabia that killed a U.S. citizen and another foreigner and wounded four others late Saturday. There was no immediate claim of responsibility.
Because of the bombings, the U.S. Embassy in Saudi Arabia closed today for a security review. Americans in the country were warned to be more cautious.
Three people were killed in violence Sunday between Israelis and Palestinians. Two of those deaths occurred in the northern kibbutz of Shluhot, where a Palestinian detonated a bomb strapped to his body, killing himself along with an Israeli.
Islamic conference
It was unclear how the missile strikes on Afghanistan would affect a meeting of Islamic countries scheduled for Wednesday in Qatar. The meeting of foreign ministers of the 57-member Organization of the Islamic Conference was called specifically to debate a unified stance toward any international response to the Sept. 11 attacks.
Many Arab analysts had expected the United States to await the results of the summit before launching an attack on Afghanistan. Iran and other countries had already warned that the Muslim world would not accept any foreign incursions into a fellow Muslim country.
Iran, which shares a border with Afghanistan and already plays host to more than a million Afghan refugees, denounced Sunday's missile strikes as "blind" and "unacceptable," according to a Lebanese television report.
Lebanon's information minister, Ghazi Aridi, warned that the U.S. attacks would destabilize the region and were designed to give the United States a pretext to maintain a long-term military presence in the region.
In a television interview, Aridi also blamed the United States for creating the very problem it is now attacking, referring to the CIA training provided to the Afghan mujahedeen guerrillas during the 1979-89 Soviet occupation of Afghanistan.
"Who created them? Who financed them?" Aridi said of the al-Qaida network led by exiled Saudi millionaire Osama bin Laden. "The United States is responsible. They think that, by bombing Afghanistan, they can solve the problem they created."
Aridi also criticized American silence regarding Israeli attacks in southern Lebanon, the West Bank and Gaza.
Border concerns
In southern Lebanon on Sunday, Israeli tanks stationed in the disputed town of Shebaa Farms reportedly fired 20 rounds across the border into Lebanon along with heavy machine-gun fire. Israel denied any such attack.
Last week, guerrillas of the Lebanese militia Hezbollah fired several rockets into Shebaa Farms as part of an ongoing campaign to force an Israeli withdrawal from the town, which Israel captured from Syria during the 1967 Arab-Israeli war.
Hezbollah, identified by the United States as possibly having supplied assistance to al-Qaida in previous anti-U.S. strikes, declined to comment on Sunday's attack against Afghanistan. In the past week, the group's leaders have lamented the deaths of innocent U.S. civilians in the Sept. 11 attacks but also have warned the United States against launching any retaliatory strike.
Copyright 2018 The Lawrence Journal-World. All rights reserved. This material may not be published, broadcast, rewritten or redistributed. We strive to uphold our values for every story published.