St. Louis — The Houston Astros forgot their late-season woes and clinched their fourth NL Central championship in five years on the final day of the season.
Shane Reynolds won his 100th career game Sunday as the Astros beat St. Louis, 9-2, leaving the Cardinals with the wild card spot.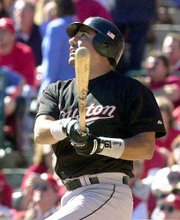 "Clinching on the last day is very exciting," Reynolds said. "It is one of the highlights of my career."
The Astros have home-field advantage throughout the NL playoffs. They will open the first round Tuesday at home against East champion Atlanta. The Cardinals will start Tuesday night at West winner Arizona.
Richard Hidalgo and Jeff Bagwell hit two-run homers for the Astros off Darryl Kile (16-11).
"To do what I did today in a game of this magnitude is a highlight of my career," said Hidalgo, who was 3-for-4. "I really wanted to do something to help the team win."
Hidalgo's 19th homer put the Astros ahead for good 2-1 in the second, Bagwell doubled off the right-field wall and scored on Lance Berkman's single in the sixth and Houston put it away with four runs in the seventh to chase Kile.
Craig Biggio had an RBI double and scored on Julio Lugo's single before the two-run homer by Bagwell, who had two crucial throwing errors in the Cardinals' victory Saturday.
The Astros had been outscored 55-29 in the previous eight games.
Marlins 4, Braves 2
Atlanta Atlanta became the first team to make the postseason with a losing record at home, dropping its final game of the season at Turner Field.
The Braves dropped to 40-41 at Turner Field when Mike Lowell had two hits and three RBIs for Florida. Atlanta opens the postseason on the road against Houston.
Brewers 15, D'backs 5
Milwaukee Richie Sexson hit his team record-tying 45th homer and singled during a 10-run fourth inning for Milwaukee. Luis Gonzalez hit his 57th homer for the NL West champion Diamondbacks. He finished with 100 extra-base hits. Arizona will open the first round of the playoffs at home on Tuesday against St. Louis.
Rookie Ben Sheets (11-10) won for the first time since June 29. The All-Star had lost six straight decisions.
Pirates 4, Cubs 3
Chicago Sammy Sosa hit his 64th homer, but Chicago lost to Pittsburgh on Chad Hermansen's three-run homer in the eighth inning. Sosa, who topped 60 homers for the record third time in his career, finished with the fifth highest home run total in history. Sosa reached his career high with 160 RBIs, and Delino DeShields had an RBI triple for Chicago, which finished 88-74, a 23-game improvement over last year.
Phillies 4, Reds 1
Cincinnati Randy Wolf (10-11) shut out Cincinnati into the ninth inning and Philadelphia completed its first three-game sweep in Cincinnati since 1989. The Phillies finished second in the NL East with 86 wins, their best total since they won 97 in 1993. They lost a chance for the division title by dropping two of three in Atlanta last week.
Expos 5, Mets 0
New York Mark Smith had a three-run homer and a wind-aided triple as Montreal finally found a way to beat Glendon Rusch. Rusch (8-12) entered the game with a 5-0 career record against the Expos in nine starts, three of those victories coming this season. But with the Mets on the wrong end of a shutout for the 12th time this season, Rusch's streak ended.
Copyright 2018 The Associated Press. All rights reserved. This material may not be published, broadcast, rewritten or redistributed. We strive to uphold our values for every story published.