Patty Buchholz cried when she heard of U.S. military strikes in Afghanistan.
"I guess I knew it was coming, but today it hit reality," she said. "It hit home that it's really going to affect people."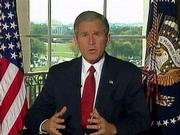 A few hours after the attacks began, Buchholz, of Eudora, was at the Youth Sports Inc. fields watching her great-nephew play football.
"These kids, they need a normal life and need us to help them with that," she said. "You have to go on, even though you're saddened about it."
Life, and youth football, went on Sunday in Lawrence as families pried themselves away from the news to spend an afternoon in the sun.
Although parents were intent on the games, serious thoughts crowded the back of their minds.
"You're always thinking about it, but you can't go and hide," said Robert Padilla as he watched his son play.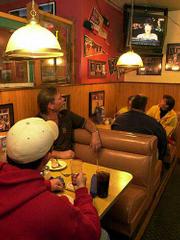 The Lawrence man said the military strikes were the right thing to do but that there could be retaliatory terrorist attacks.
"Now we've just got to buckle down and make sure security is tight," Padilla said.
Paul Franklin-Bey said he didn't support the strikes.
"I think they should go try to get the person behind it first, before they strike hard," he said.
Jake Lorenzo, 13, and Matt Galloway, 12, both of Lawrence, said they were more focused on football than retaliation Sunday, but they had watched some news before the games.
"I don't think we should attack the nation of Afghanistan," said Lorenzo, who plays tackle for the South Junior High Golden Eagles. "I think we should just be attacking certain areas like terrorist camps."
Douglas County Sheriff Rick Trapp said he asked deputies to be extra-vigilant Sunday.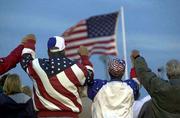 "We, of course, anticipated this coming sometime, probably sooner rather than later," he said.
Sunday night, the FBI asked local police departments nationwide to rise to the "highest alert" against possible new terrorist attacks.Trapp said he was especially concerned about the possibility of hate crimes against Muslim and Arabic students and citizens.
Almas Sayeed, a Kansas University student from Wichita, said she was in "information-gathering shock." Sayeed, a Muslim and lifelong U.S. citizen, said her first thought was the civilian causalities in Afghanistan.
"I'm not really clear what they expected to accomplish, other than scare people, and that's what they did," she said.
Felix Moos, a KU professor of anthropology, has taught a course on violence, aggression and terrorism in the modern world for more than 20 years.
He said Sunday's strikes would not deter terrorism.
"But on the other hand, a response had to be made in some way to Sept. 11," he said.
Moos applauded humanitarian aid to Afghanistan and said moderate Muslims from the United States and other countries must be included in diplomatic and military forces in the Middle East.
"We need to show that we are concerned with that part of the world," he said. "Not just in terms of oil and military means, but we should show we are concerned with development."
Regardless what they were doing, the attacks seemed to be on people's minds.
Shopping Sunday afternoon at Hy-Vee, 3504 Clinton Parkway, Marcia Riley said she was still in shock despite having expected the attacks.
"I think there will be retaliation, and I think it's going to be a long, drawn-out scary event," she said.
She was glad that British Prime Minister Tony Blair supported the strikes.
"Bin Laden said Americans will never know security again, and I think that's true," she said. "Life as we have known it it just won't be the same."
---
Staff writer Joel Mathis contributed to this story.
Copyright 2018 The Lawrence Journal-World. All rights reserved. This material may not be published, broadcast, rewritten or redistributed. We strive to uphold our values for every story published.