European governments gave swift and solid backing to the U.S.-British attacks on Osama bin Laden and his backers Sunday, with France saying its forces would also take part.
In an address to the nation, President Bush said Canada, Australia, Germany and France have "pledged forces as the operation unfolds," and numerous other countries have granted air transit or landing rights. Still more nations are providing intelligence, he said.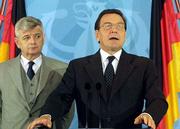 Bush telephoned several European leaders just before the attacks began, including French President Jacques Chirac.
Later, in a televised address to the French people, Chirac said: "Our forces will participate. At this stage French vessels are associated with this operation."
Until now France had offered only airspace and naval logistical support.
Canadian Prime Minister Jean Chretien confirmed that his country would meet Bush's request for a military contribution. In a message to the nation he said military units were being told to report for duty.
Italian Prime Minister Silvio Berlusconi put his country on heightened alert and promised that "Italy is by the side of the United States and all who are committed to the battle against terrorism."
Italy has offered troops, as well as use of its ports and airports.
German Chancellor Gerhard Schroeder promised Bush his country's "unlimited solidarity."
"There is no alternative to this struggle, which we must win and will win," Schroeder told reporters.
The Netherlands, Greece, Spain, and the Scandinavian countries added their voices to what appeared to be a near-unanimous expression of support that spanned eastern and western Europe as well as Russia and Ukraine.
"Together with our allies we have to face this human plague which is terrorism," Polish President Aleksander Kwasniewski said in a statement.
"The fight will be long, risky and painful," he said. "Today's campaign is only the beginning. It will require a lot of effort and concessions, also on part of our society. We are ready for it."
Small anti-war demonstrations were held in some European cities, and some governments expressed regret that military action couldn't be avoided.
But overall, the attacks were supported. Romano Prodi, president of the 15-nation European Commission, said "all Europe stands steadfast with the United States and its coalition allies to pursue the fight against terrorism" and "against those who attack the very foundations of civilization."
Israeli Foreign Minister Shimon Peres said on CNN: "We feel part and parcel of this campaign, and if we are asked (to help), everything will be considered seriously and positively."
Copyright 2018 The Associated Press. All rights reserved. This material may not be published, broadcast, rewritten or redistributed. We strive to uphold our values for every story published.