Dallas — The Oklahoma Sooners didn't dominate the Texas Longhorns this time. They tricked 'em instead.
Third-ranked Oklahoma set up its only touchdowns by running an option on fourth-and-2 and pooching a punt on a fake field goal, leading to a 14-3 victory over No. 5 Texas on Saturday.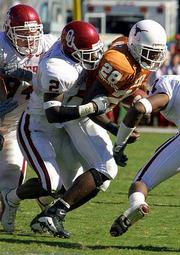 The game was much more dramatic than last year's 63-14 stomping by the Sooners. Oklahoma (5-0, 2-0 Big 12) led 7-3 and Texas (4-1, 1-1) was driving late in the fourth quarter. But the Sooners' defense came up big, intercepting three straight passes by Chris Simms in their own end zone, at the Texas 2 and at midfield to seal their second straight victory in the Red River rivalry.
"We couldn't be more pleased," said OU coach Bob Stoops, who won his eighth straight game against a ranked team since losing to No. 23 Texas in 1999. "This is a special game for our players. Just coming down that tunnel, the atmosphere the players enjoy that. The OU-Texas rivalry is back to where it should be."
The game essentially ended on the second of Simms' three consecutive turnovers.
The interception was set up by the pooch punt and was returned for a touchdown by linebacker Teddy Lehman with 2:01 left. It silenced the orange side of the Cotton Bowl where the play occurred and set off a celebration on the other, crimson-clad end of the stadium.
Oklahoma held the nation's fourth-highest scoring offense to 42 fewer points than it had been averaging and prevented Texas from scoring a touchdown for the first time since a 66-3 loss to UCLA in 1997.
Mike Stoops, the head coach's brother and the co-defensive coordinator, gets the credit for calling the fake field goal. While Bob thought Tim Duncan would make the kick even after missing from 24 and 42 yards, Mike suggested going for better field position.
OU lined up for the kick, then holder Jason White who played quarterback after starter Nate Hybl was hurt flipped the ball to Duncan, who pinned UT at its own three.
Blitzing safety Roy Williams jumped over a blocker and hit Simms as he threw, causing the ball to fly straight to Lehman.
Bob Stoops thought it was a safety.
"Then I looked around, the ball was out and we had a touchdown," he said.
The first great call by one of the Stoops brothers was Bob's decision to let White run the option on fourth-and-2 from the Oklahoma 30 with 6 minutes left in the second quarter.
White, who replaced Hybl earlier in the series, made a perfect pitch and Quentin Griffin took it 17 yards. White ran for 11 yards on the next play, then used the option again for a 2-yard touchdown run by Griffin, who had six scores in last year's game.
"After all, it is Oklahoma. We haven't totally abandoned our heritage," Stoops said of the play past Oklahoma teams made famous.
White, a sophomore, was 16-of-23 for 108 yards and ran 12 times for a team-high 38 yards. Griffin, who had minus-1 yards before his 17-yard option run on fourth-and-2 from the 30, finished with 27 yards.
Stoops refused to disclose details of Hybl's injury, but he appeared to be favoring his left side.
Texas never established a running game, partly because Simms was effective passing. But the Sooners were giving him short passes and taking away anything deep.
He spread the ball so well that he used eight receivers in the first two quarters and nine overall. However, no pass went more than 25 yards. Texas' Roy Williams had six catches for 65 yards, but five for 54 yards came in the first quarter.
Simms' only throw into the end zone was intercepted by Antonio Perkins. He finished 24-of-42 for 198 yards with four interceptions and was sacked five times.
Texas' only points came on Dusty Mangum's 27-yard field goal late in the second quarter.
Copyright 2018 The Associated Press. All rights reserved. This material may not be published, broadcast, rewritten or redistributed. We strive to uphold our values for every story published.