Seattle — As Seattle prepares to commemorate its sesquicentennial, the city is famous for building jumbo jets and giving birth to Starbucks Coffee and grunge rock, symbols of today's pop culture. But the totem poles that pop up here and there suggest the Emerald City has its roots in the culture of the continent's original settlers.
To find those roots, hop a ferry across Puget Sound to the Port Madison Indian Reservation on the Kitsap Peninsula.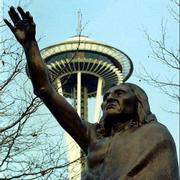 Founded in 1851 and incorporated in 1869, the city bears the name of Chief Seattle, a Suquamish leader who befriended European settlers. ("Seattle" is the settlers' corruption of the chief's birth name, Sealth.)
Seattle (or Sealth) was born in 1786, the son of a Suquamish chief and grandson of a Duwamish chief. He displayed leadership traits at an early age and earned status by organizing his and other tribes to defend against attacks by rival tribes looking to raid their villages.
Chief Seattle was a skilled orator. Intrigued by the European settlers' arrival during the 19th century, his 1855 speech at the signing of the Treaty of Port Elliott yielded memorable quotes such as, "The white man's religion was written upon tablets of stone, but our religion is written in the hearts of our people." It also spawned controversy, for some historians question its authenticity.
Tribal customs
Chief Seattle is buried at the Port Madison Indian Reservation. A memorial stating his role in the city's development greets visitors at the Suquamish Memorial Cemetery. Along the gravel trail leading to his grave are tombstones of more people from that era some belonging to families, others remaining unknown. Totem poles are scattered about the tree-shaded grounds.
At the Suquamish Museum, visitors can learn about the tribe's way of life from communal living in longhouses to adjusting to the settlers' customs. Exhibit highlights include a cedar dugout canoe with accompanying paddles and a display of baskets that served various purposes.
Another major site is the Old Man House, Chief Seattle's former longhouse, now a state park. Then the largest house in the area 700 feet long, 60 feet wide, and at least 10 feet high it could house hundreds of people at a time. Many potlatches (a ceremony for tribes to gather, socialize and exchange gifts) were held there to mark occasions such as births, marriages and even deaths.
The chief and the Suquamish way of life are celebrated at an annual summer festival called Chief Seattle Days. Held during the third weekend of August, this three-day celebration, with events such as a beauty pageant and drumming contest, draws thousands of people from all over the state of Washington.
"In 1910, the tribal leaders got together and decided to have a celebration where they could celebrate who he was in his home territory and do some traditional things, like a salmon bake, canoe races and powwow dances," said Peg Deam, a cultural development specialist at the Suquamish Tribal Council. "We're continuing the same things that happened in Chief Seattle's day."
In 1915, just 12 years after the Wright Brothers' first flight, a wealthy young timber trader and aviator named William Boeing started building his own seaplanes at his boathouse in Seattle. Over the next decades the Boeing name came to dominate the aircraft industry as the company turned out bombers that helped win World War II and wide-body passenger jets that redefined global travel.
Last spring, Boeing announced it was moving its corporate headquarters to Chicago and recently announced the layoffs of 30,000 workers, but Boeing's influence on Seattle cannot be understated.
Fresh-caught food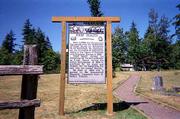 Life was simpler in Chief Seattle's time. Fishing was an integral part of the Suquamish culture. Not only was it a source of food, it was also their livelihood. One of Washington state's nicknames is the Chinook State, referring to the largest type of salmon found in the Pacific Northwest.
"In Chief Seattle's day, we didn't have to travel far to get food. The salmon came to us, the clams were outside and the deer were in the back yard," Deam said. "We were blessed with a lot of the food that's here for us."
Today, an abundance of food can still be found along the bay at any seafood restaurant on Alaskan Way. The Fisherman's Restaurant serves dishes such as steamed clams and alder smoked salmon fettuccine.
To indulge a craving for oysters, Elliott's Oyster House offers the delicacy in its many forms, like Coromandel and Tatamagouche. And for crab lovers, the Crab Pot serves the crustacean the old-fashioned way, providing the diner with a mallet and bib.
According to the Seattle Chamber of Commerce, Native Americans make up only 1 percent of the city's population today. While their numbers have decreased, their influence on Pacific Northwest culture is still felt.
Totem poles can be found in places such as Victor Steinbrueck Park near Pike Place Market and Occidental park in Pioneer Square. As for their artwork, it draws the interest of enthusiasts at places like the Seattle Art Museum and Clarke & Clarke Tribal Arts Gallery.
Seattle has evolved in other ways. Grunge is no longer a buzz word around town, its music having become an artifact of pop culture at the Experience Music Project. (A mixture of punk and 1970s rock, its popularity soared in the early 1990s with the help of bands such as Nirvana and Soundgarden.)
Coffee shops still dot the city's streets, though, helping Seattle retain some of its old charm not to mention warm up the natives who are greeted with chilly mornings.
Contrary to popular belief, it doesn't rain here all the time.
Copyright 2018 The Associated Press. All rights reserved. This material may not be published, broadcast, rewritten or redistributed. We strive to uphold our values for every story published.