Baltimore — In his final game in the major leagues, Cal Ripken didn't hit a dramatic home run. He didn't even get a hit.
It hardly mattered.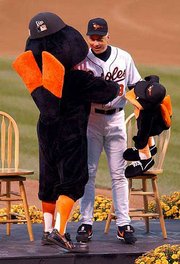 Ripken's career wasn't about clutch hits or home runs, even though he had plenty of both. The Baltimore Orioles' standout attained worldwide fame because he showed up every day to play, whether he was hurt or mired in a miserable slump.
That is why he will forever be known as the Iron Man.
So, even though his 0-for-3 performance Saturday night in the Orioles' 5-1 loss to the Boston Red Sox put a 2-for-48 finish on his Hall of Fame career, Ripken nevertheless drew more cheers than a former president, baseball's commissioner and several players already in the Hall of Fame.
Bill Clinton, major league commissioner Bud Selig and former Orioles Jim Palmer, Frank Robinson and Earl Weaver were among the big names on hand for the game, which had absolutely no impact on the standings.
But it meant everything to Baltimore fans, many of whom paid $1,000 a ticket to say goodbye to a hardworking athlete whose impact stretched far beyond the boundaries of Maryland.
"At this challenging time for our country, when we're more united than we've been in decades across the lines that usually divide us," Clinton said, "Cal Ripken is a model for the game of baseball. Not only for his team, but most important to me, he is the kind of man every father would like his son to grow up to be."
After he unlaced his spikes and peeled off his dirt-stained uniform for the last time, Ripken, 41, left the game he loves without regret.
Ripken did everything he set out to accomplish, and then some. He kept himself in tiptop shape, played through injuries and milked the most out of his body from the day he arrived in the major leagues in 1981.
Now that it's over, the wide range of emotions he's feeling are devoid of remorse.
"Tonight we close a chapter of this dream, my playing career," he told the crowd after the game. "But I have other dreams. You know, I might have some white hair on top of this head well, maybe on the sides of this head but I'm really not that old. My dreams for the future include pursuing my passion for baseball. Hopefully, I will be able to harvest what I've learned."
Since he announced in June that he would retire after this season, Ripken never had a second thought. The only thing he loves more than baseball is his family, and the future Hall of Famer is ready to break free of the obligations of the job he's held for more than two decades.
Fans asked him to change his mind. Ripken says no way.
"It's not sad. I'm not sad that I'm leaving by any means," Ripken said. "I've had a lot of people cry in front of me, fans who would say, 'Please don't go. One more year. It's not going to be the same without you.'
"I find myself consoling them. I say, 'It's going to be all right.'"
Baseball will miss him, too.
"Cal Ripken is one of the greatest players of our generation," Selig told the sellout crowd of 48,807. "He has become the symbol for the American work ethic, a symbol for the American working man. He also became a symbol of everything that is great about the game of baseball."
It won't be the same without him. Ripken was one of a kind, and not just because of his amazing streak of playing in 2,632 consecutive games from 1982 to 1998.
The emotion of his final days, as well as the extended autograph sessions, took their toll.
Throughout his season-ending slump, Ripken didn't kick the dirt, slam a water cooler or pull himself from the lineup.
Instead, he laughed at the irony.
"I was 3-for-5 on opening day in '82, then I think I went four for my next 68," he said.
Copyright 2018 The Associated Press. All rights reserved. This material may not be published, broadcast, rewritten or redistributed. We strive to uphold our values for every story published.