Ted Boyle remembers 1993.
That was the year of the last great flood in Lawrence. Boyle used a boat to get around his North Lawrence neighborhood and carry worried business owners and employees to their shops and offices.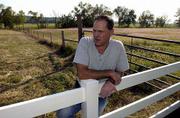 "It was flooded all the way from Johnny's Tavern all the way out to North Third Street," Boyle said. "There was 3 foot of water all the way out on North Second Street."
Those memories linger with Boyle when he discusses proposed new regulations that would drastically curtail construction in the floodplains of Douglas County.
The rules would be fine with Boyle. New houses in North Lawrence would leave less room for flood waters to flow away from his own home.
"Building in a floodplain," Boyle said, "is not a good idea."
South of Lawrence, though, Pete Wempe looks at the regulations and sees money slipping through his fingers.
Many rural Douglas Countians have invested a lot of money in their land, he said. Those investments would be greatly devalued if the proposed regulations are passed and developers have to look elsewhere to buy and build.
It's not that floodplain development should be allowed willy-nilly, Wempe said. But property owners shouldn't lose money because of new regulations.
"You're taking a guy's land and not compensating him for that," Wempe said. "I don't see any difference between this and taking half of the money of someone's bank account."
Welcome to the latest battleground in Lawrence's continuing growth wars ground that just might be under water the next time it rains.
Expensive high water
The 1993 flood indirectly continues to cost the city of Lawrence tens of millions of dollars.
In the immediate aftermath, the city spent $2.3 million to repair streets, sewers and other parts of the infrastructure. Another $1.2 million went to designing and building a pump station to slow the buildup of rainwater in North Lawrence.
Additionally, the federal government provided Douglas County with $4.4 million to assist farmers, families and businesses in flood recovery efforts.
With an eye toward preventing a recurrence of the devastation, the city also created a stormwater management master plan to find ways to move water away from inhabited areas and into streams and fields where property wouldn't be damaged.
The city has committed $11 million so far to implement that plan, creating stormwater channels at Third and Michigan and 21st and Carolina streets, among others. Other projects in the plan could cost the city $40 million more by 2014.
"That's what taxpayers are going to pay to protect what's already developed, without developing additional floodplain," said Lawrence City Commissioner David Dunfield, perhaps the most vocal proponent of restricting floodplain development.
"The economics and costs of floodplain development are enormous," he said. "From an academic view, anyway, it's easy to avoid those costs."
The regulations would do that by allowing only open space and agricultural uses in floodplain properties. Land that is already platted would be allowed to develop, but it wouldn't be allowed to subdivide into smaller lots with additional buildings, and no more than 50 percent of the property could be covered with impervious surfaces that don't absorb water.
City planner Bryan Dyer said in a memorandum the regulations would have reduced the $40 million in anticipated flood project costs by $10 million had they been in place earlier.
"Reducing the amount of collateral property that is vulnerable to flood damage will reduce the amount of public expenditures that will occur after the next flood," Dyer wrote.
Losing the inheritance
Douglas County has a total area of about 281,000 acres. Of that, Dyer said, almost 23,000 acres of developable land in the rural part of the county would be affected by the regulations.
Wempe, who owns property at several locations south of town, said prohibiting development on that land will cost landowners "easily tens of millions" in lost property value.
"All you can do is farm it or make a park," he said. "That's going to cut the value in half, and that's a tremendous impact on the people who own this land. For a lot of people, that's their life insurance, their savings account, the thing they're going to leave their families."
Wempe has begun organizing about 30 other rural property owners into a coalition to oppose the regulations. A key argument: Not all flooding problems caused by development happen in the floodplain.
When water can't sink into ground where a house is built, Wempe said, it flows into and enlarges the plain no matter where that house is built. In fact, he said, the regulations might cause more flooding because they'll increase the density of development in nonfloodplain properties.
"I think we need regulations, but it needs to be on all the ground, floodplain or no floodplain," Wempe said. "I don't see where they're addressing anything. They're just robbing Peter to pay Paul."
Green space benefits
Mike McGrew, vice chairman of Coldwell Banker McGrew realty, adds another criticism: The new regulations will make it harder to provide already-rare affordable housing.
"As you know, housing affordability in Lawrence is a big deal," he said. "It's tough to do here, and if we take some of the less expensive property off the table, it could make it even worse."
Dunfield doesn't buy that.
"If floodplains flood," he said, "then it's no more OK to flood affordable housing than it is to flood high-end housing."
Besides, he said, the regulations can turn into a winning situation for landowners and developers by creating large swaths of green space next to development, something that often makes those developments more lucrative.
"You can guarantee the new residents they'll have green space forever," Dunfield said.
Not everybody will be a winner, though. Some landowners who expected their property to be bought at a high price and developed will be disappointed.
"A change in the floodplain regulations would give some certainty in the situation, so people wouldn't be misled into thinking there's a gold mine on the horizon," Dunfield said.
"Private property rights are important, but we don't guarantee the right to threaten the public safety and welfare. That's what zoning's all about."
A committee of the Lawrence-Douglas Planning Commission will take public input on the matter over the next several weeks: 8:30 a.m. Thursday and 5 p.m. Oct. 15 in City Hall. The commission will consider the city and county portions of the regulations at its Nov. 28 and Dec. 19 meetings, respectively, before sending them on to the city and county commissions for final approval.
Wempe plans to be present at those meetings, helping lead the opposition.
"I'm not here to develop. I don't want to," he said. "But I am here to protect my investment."
Copyright 2018 The Lawrence Journal-World. All rights reserved. This material may not be published, broadcast, rewritten or redistributed. We strive to uphold our values for every story published.