Fairbanks, Alaska — Crews on Saturday installed a clamp over a bullet hole in the trans-Alaska Oil Pipeline, which has leaked about 285,600 gallons of oil into the wilderness over the past three days.
The temporary fix has reduced flow onto the ground from as high as 140 gallons per minute to about a half-gallon per minute, said officials with Alyeska Pipeline Service Co., which operates the 800-mile pipeline. Workers also used a hose to channel oil away from the leak.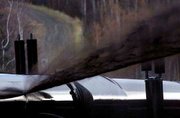 A man who had been drinking shot the pipeline Thursday with a hunting rifle in what Gov. Tony Knowles called "a hare-brained act of violence." Before the clamp was installed, oil under high pressure sprayed through a small hole onto trees, brush and tundra. Regulators said there was no evidence that any wildlife has been affected.
"We anticipate it will take literally years to get the area free of contamination," said Bill Howitt, an Alyeska vice president based in Fairbanks.
Workers had built a series of dikes to contain the spilled oil and keep it away from the Tolovana River, about a mile away.
The suspect, Daniel Carson Lewis, 37, is charged with felony assault, weapons misconduct, criminal mischief and driving while intoxicated in connection with the shooting. He was being held in Fairbanks on $1.5 million bail.
According to documents, Lewis, who has an extensive criminal background, had been drinking before shooting the pipeline with a .338-caliber rifle. He allegedly fired four shots before the fifth penetrated the pipe.
The pipeline carries about 1 million barrels of oil a day, or 17 percent of domestic oil production. Oil companies on the North Slope were asked to reduce their production by 95 percent during the shutdown.
Copyright 2018 The Associated Press. All rights reserved. This material may not be published, broadcast, rewritten or redistributed. We strive to uphold our values for every story published.