New Orleans — Hoping to combat the glitzy promises of casinos and lotteries, Louisiana is giving students a chance to figure out for themselves just how slim their odds are of winning.
The program on the mathematics of chance, tested last spring and now available to all Louisiana middle schools, is believed to be the first of its kind in the nation.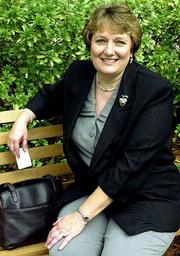 The curriculum developed at Harvard University is based on the idea that most problem gamblers don't understand probability and randomness.
For example, it illustrates the astronomical 1-in-80 million odds of winning the Powerball lottery by comparing it to such other unlikely events as the 1 in 2 million chance of getting killed by lightning or the 1 in 6 million chance of dying from a bee sting.
"When you find out the odds of winning, it's not as easy as you think," said Daniel Greenhouse, 14, who took the course last spring.
Students are also shown that if they save $9 a week at 6 percent interest rather than buy nine $1 lottery tickets, they'd have $39,212 in the bank after 30 years.
"They're seeing the message to go to the casino and win a house or a boat. If you go in the way this program is approaching it, the students will realize they'll go into a casino and leave behind money," said former state Rep. Randy Wiggins, who sponsored the 1999 law requiring schools to teach about the problems associated with gambling.
Wiggins said the course is vital because Louisiana will probably never get rid of its lottery, casinos, video poker and horse races.
So far, the course has been woven into eighth-grade math classes in eight parishes. Other states, including Nevada, are considering it.
Walter Abbott, a board member of the National Coalition Against Legalized Gambling, said he would have preferred a more direct approach.
"The first thing they need to teach is that you can't win, period," Abbott said.
"When I used to go to school, they used to show films of dead bodies hanging out of wrecked cars as an example of when you drink and drive. I think they'd show examples of people's lives that have been wrecked from compulsive gambling."
Copyright 2018 The Associated Press. All rights reserved. This material may not be published, broadcast, rewritten or redistributed. We strive to uphold our values for every story published.