Fort Worth, Texas — Sam Hornish Jr. had already clinched the IRL season title, but he found a way to make the final race exciting.
Hornish overtook Scott Sharp just feet from the finish line to cap his championship season with a win at the Chevy 500 on Saturday in the closest 1-2-3 finish in IRL history.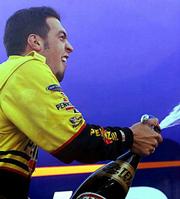 The 22-year-old champ led 114 of 200 laps, but Sharp had passed him high on the 193rd lap. Sharp then led until Hornish found the needed extra boost by dropping his car into fourth gear coming out of the final turn.
"I didn't think I had enough," Hornish said. "I tried just about everything to get around. It kept going through my mind, so I dropped it down to fourth and got about a 150-horsepower boost.
"I was lucky enough to get by him at the finish line. I'm lucky I finally figured it out on the 199th lap."
In those closing laps, with Robbie Buhl right in the mix, Hornish tried to get around Sharp both high and low. No matter what he tried, nothing worked until the quick gear shift.
"It was some wild racing. You're almost waiting for something to happen," Sharp said. "It was a clean race, a hard race. Coming off Turn 4, Sam had a great run. He had the momentum and got me."
As the trio rounded the final turn, Sharp still had the inside line. But Hornish got enough momentum to win by .0188 seconds by about a nose in the middle.
Buhl, who led 31 laps, was just .0468 seconds, or about half a car-length, behind Hornish in the race that was postponed three weeks following the terrorist attacks.
Hornish was the first IRL driver that had clinched the IRL Northern Light Cup and $1 million bonus before the final race. But his other two wins came in the first two races of the 13-race schedule.
"It means so much for me to come out and win again," Hornish said. "Everybody was thinking that I was kind of not taking any chances and just collecting points after those first two wins. But I had been pushing it just as hard. Everything fell right today."
In his first season with Penzoil Panther Racing, Hornish was the only driver to finish every race and had only one finish lower than sixth, a 14th-place showing at the Indianapolis 500.
He won the season finale with the IRL-record 32nd lead change. His average winning speed of 168.523 mph was slowed by five cautions for 27 laps.
The previous closest race in the IRL was Sharp's .059-second win over Robby McGehee in the June 2000 race at Texas. That race also had the previous record with 31 lead changes.
Sharp also won at Texas last June, when he crossed the finish line under caution after a crash on the 196th lap took out fellow front-runners Greg Ray and Eddie Cheever Jr. Just like Saturday, that trio was in a tight run before Ray made contact while passing McGehee's lapped car.
The final dash to the Chevy 500 finish actually started at the end of lap 172, after the last caution.
Hornish, Sharp and Buhl went three-wide around the third turn after the green flag waved. Sharp had the slight edge at the line, which he held until Hornish went back in front seven laps later.
When Eliseo Salazar joined the fray, that created a quartet separated by just .14 seconds. The pack stayed two-wide, two-deep until the 183rd lap, when they went single file around Billy Boat's lapped car.
Hornish and Sharp, who led 22 laps, were 1-2 at the line then.
Salazar finished fourth, followed by Rick Treadway and Al Unser Jr. the only drivers on the lead lap. Only 11 of the 25 cars finished.
Jaques Lazier had been running at the front with Hornish since an opening-lap caution when he pulled in for a scheduled stop on the 53rd lap. His back left tire came off as he exited pit row.
Copyright 2018 The Associated Press. All rights reserved. This material may not be published, broadcast, rewritten or redistributed. We strive to uphold our values for every story published.