Lubbock, Texas — No need to pinch yourself. It really happened.
Many football wags thought they'd play the Afghanistan National Anthem prior to U.S. sporting events before Kansas University ever posted a come-from-behind triumph on the road.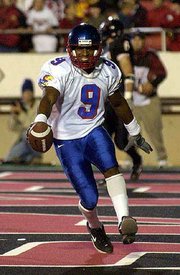 Curiously, the Jayhawks did it Saturday night in the home of late rock-and-roll legend Buddy Holly, who recorded the hit "That'll Be the Day" before he perished in a plane crash way back in 1959.
Speaking of Holly, his statue adorns the Buddy Holly Plaza in downtown Lubbock. It stands above a Walk of Fame that includes such greats as Waylon Jennings, Tanya Tucker and Terry Allen.
Terry Allen???
No, not THAT Terry Allen. This one is a songwriter and singer from West Texas who was inducted into the Walk of Fame in 1997, the same year Kansas football coach Terry Allen came to Lubbock for the first time and dropped a 17-7 decision to the Red Raiders.
History was supposed to repeat on Saturday night. Texas Tech, a 13 1/2-point favorite, had earmarked Kansas as its homecoming fodder. They even had a post-game fireworks show scheduled to celebrate the men and women who serve as policemen and firemen throughout the country. And, of course, a Texas Tech victory.
When Kansas bolted to a 10-0 lead with back-up quarterback Zach Dyer at the helm, the Red Raiders' faithful by the way, Bob Knight, the newest TTU coach, apparently wasn't on hand at Jones SBC Stadium, although nobody seemed to know for sure were a little nervous.
But then with Kliff Kingsbury passing the Jayhawks dizzy, the Red Raiders quickly assumed the lead and when, late in the third quarter, Kingsbury tossed his third TD pass of the night to give the Techsters a 24-13 lead, well everybody knows Kansas never comes back on the road.
In fact, going into Saturday, Kansas had won only two of its last 21 road games. One came last year when the Jayhawks bolted to a big lead over a somnambulent Missouri team and never looked back. The other was that four overtime thriller over Alabama-Birmingham four years ago.
"Maybe if we can get it into overtime on the road, we can will them all," a jolly Allen quipped afterward.
Allen had good reason for jolliness. This is his fifth year on Mount Oread and he had witnessed something he had never seen a come-from-behind victory with his players wearing their white road jersies.
"This was huge," Allen said. "We could have quit early and we didn't."
Most coaches detest night games on the road. They hate to have their players sit around all day and then have to head to the stadium and play for three-plus hours.
This Saturday, however, sitting around may have actually helped the Jayhawks because it enabled them to watch Colorado's surprising 16-6 win over Kansas State. Two weeks earlier, KU had bowed to the Buffs in Boulder, blowing a lead in the fourth quarter and then having two weeks to think about it.
"Colorado's win today helped our football team," Allen said. "We lost earlier to UCLA and they're a pretty good football team. And so is Colorado. When they saw Colorado stick it to Kansas State, it helped us."
Thus it was an incongruous sight on the floor of Jones SBC Stadium with about an hour and a half remaining until midnight. There were the Jayhawks racing en masse to the northeast end zone where a small gathering of KU faithful were whooping and and hollering, some hanging over the rail to slap hands with their conquering heroes as fireworks exploded over the Tech athletics office complex in the south end zone.
"God only knows we needed this win," Allen said. "Instead of being 1-3, now we're 2-2 and we're going to play what will probably be the No. 1 team in the country (Oklahoma) next week."
Kansas players also had an opportunity to watch Oklahoma's televised 14-3 win over Texas on Saturday.
Will watching the Sooners help the Jayhawks next Saturday night the same way watching Colorado this Saturday night aided them against Texas Tech?
In reality, probably not. Still, you can't measure the psychological importance of winning a game away from home that nobody gave you a chance to win.
Kansas needed a heart-waming win like Saturday night's to stoke the fires of the fading flames of fandom back home.
Too bad this one wasn't televised back in Kansas. This one really needed to be seen to be believed.
The Texas Tech folks sure couldn't believe it.
"The biggest thing is our self-esteem needs to go up," Texas Tech coach Mike Leach said, "and get a lot better."
KU's self-esteem sure as heck became a whole lot better on Saturday night.
Copyright 2018 The Lawrence Journal-World. All rights reserved. This material may not be published, broadcast, rewritten or redistributed. We strive to uphold our values for every story published.