Washington — Two months before flying a jetliner into the World Trade Center, Mohamed Atta went on a European road trip.
He flew from Miami to Spain, rented a car and drove 1,190 miles in 12 days, including a brief visit to Switzerland.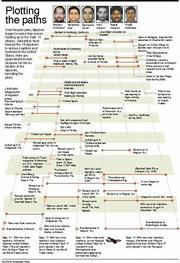 Spanish police say Atta's papers were in order and they had no reason to suspect he would emerge as the ringleader in a suicide hijacking plot that killed more than 5,200 people on Sept. 11.
Spanish authorities now are trying to determine if Atta met with associates of Osama bin Laden or with members an Algerian terror cell during that trip; or if he avoided passport controls by flying from Barcelona to another European country to meet with organizers of the attacks.
"He could have simply taken a plane at Barcelona airport and gone to any country, Germany, France or whatever," said Spanish National Police Chief Juan Cortino.
Atta's European trip is one of four known overseas visits by suspected hijackers in the months before the attacks. The search overseas is critical because U.S. law enforcement officials increasingly believe the hijackers received their instructions and financing from masterminds of Osama bin Laden's al-Qaida network who remained behind in Europe and the Middle East.
"It's logical to think that the guys going back and forth were giving updates on the progress they were making so they could get the assets they needed in place," said Rep. Saxby Chambliss, R-Ga., chairman of the House Intelligence Committee's terrorism subcommittee.
The movements of the hijackers, as detailed through public records and interviews, suggest there were two distinct groups. Six were leaders who arrived last year, and most had pilot's licenses. Thirteen others arrived just months before the attacks and provided the muscle to keep passengers on the hijacked planes at bay.
Three of the six leaders left the United States for brief trips abroad during the past year, or met with suspected terrorist collaborators just before arriving stateside.
And as Sept. 11 approached, the six leaders increasingly crossed paths with each other and the 13 other hijackers.
"They needed the older, more mature, more dedicated people who've been around," said Clint Van Zandt, a retired FBI agent.
No U.S. suspiscion
For the most part, the hijackers were clean-cut young men with no past terrorist associations to tip off authorities. During their months in the United States, they did nothing to arouse suspicions.
The best signs of their intentions emerged overseas.
In January 2000, Khalid Almihdhar and Nawaf Alhazmi, two of the five who commandeered the plane that slammed into the Pentagon, met in Malaysia with a bin Laden associate later implicated in the plot to bomb the USS Cole in Yemen.
That ship wasn't bombed until 10 months later, but authorities have linked it to bin Laden and have concluded that some of the planners also were part of the Sept. 11 plot.
In February 2000, Almihdhar had reached southern California, where he and Alhazmi spent much of the rest of the year. They took flight lessons in San Diego in May, but couldn't meet licensing standards.
Soon afterward, Hani Hanjour, who had received flight training at Arizona schools in the late 1990s, joined Almihdhar and Alhazmi in San Diego. Authorities believe Hanjour was at the controls of the plane that crashed into the Pentagon.
By May, Atta and Marwan Al-Shehhi, believed to be the pilot of the other flight into the World Trade Center, were in Florida taking flying lessons. In June, they were joined by Ziad Jarrah, who authorities believe took the controls of the plane that crashed in Pennsylvania.
Atta, Al-Shehhi and Jarrah had attended school in Hamburg, Germany, in the 1990s. German authorities say they were part of a terrorist cell that was formed in early 2000 to attack American targets. Two other alleged members of that cell are now being sought on warrants charging each with more than 5,000 counts of murder.
In January, Atta traveled to Spain, and stayed about a week. Spanish authorities say they don't know what he did there.
In March, Hanjour rented an apartment in Paterson, N.J., with Salem Alhazmi, another hijacker aboard the Pentagon flight. Over the next few months, neighbors spotted several other hijackers coming and going, including Saeed Alghamdi, who was on the Pennsylvania flight.
In April, Waleed Alshehri, who helped Atta hijack American Airlines Flight ll, checked into a Hollywood, Fla., motel. By the end of July, at least six other soon-to-be hijackers had arrived in Florida.
Atta traveled abroad at least twice more. U.S. officials say he met with a suspected Iraqi intelligence agent in Europe in April. He returned to Spain for 12 days in July.
Leadership circle
Stateside, Atta met frequently with the other five suspected hijacking leaders. Soon, the six began to be seen more often with the other 13 collaborators.
Atta and Al-Shehhi roomed together in Florida and took flight lessons. Atta and Jarrah both got Florida driver's licenses on May 2.
All six leaders were in Las Vegas at various times during the summer. On Aug. 13, Atta, Hanjour and Alhazmi were there at the same time.
Each team of hijackers moved closer to their targets as the attack date neared. There's evidence some even flew planes on possible trial runs past the World Trade Center.
On Aug. 1-2, Hanjour, Almihdhar and four other hijackers obtained Virginia photo ID cards from a state office in Arlington. By September, many of the hijackers were staying in motels near Washington.
On Sept. 10, Atta and another hijacker, Abdulaziz Alomari, checked into a motel in Portland, Maine.
The next morning, they flew to Boston, changed planes and boarded American Airlines Flight 11. That jetliner was the first to crash into the World Trade Center.
Copyright 2018 The Associated Press. All rights reserved. This material may not be published, broadcast, rewritten or redistributed. We strive to uphold our values for every story published.