Step into the Lindsborg booth at the Kansas Sampler Festival, and it's almost like stepping back to the late 19th century, when Swedish immigrants settled the Smoky Valley of Kansas.
Decked in traditional Swedish costume, Duane and Kally Tuttle tell tales of raising a maypole at Midsummer and watching Swedish folk dancers at the annual Svensk Hyllningsfest.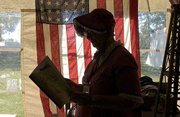 It's the story of Lindsborg, or "Little Sweden."
The quaint town of 3,300 this weekend joined more than 140 communities from across the state to reveal the cultural, recreational and historical offerings of Kansas towns.
The festival held this year and last in Ottawa is sort of a myth-buster for Kansans, said Marci Penner, director of the Kansas Sampler Foundation.
"Our mission is to educate Kansans about Kansas," she said. "A lot of our own people think our state has nothing to offer."
One stroll through the small village of tents set up Saturday at Ottawa's Forest Park could put that narrow view of the state to rest.
Those who perused the El Dorado booth learned that the city grew up as a boom town after a major oil strike in 1915. Visitors to the town's Kansas Oil Museum can see full-size oil equipment once used to extract "black gold" from the earth.
Mary Brady of Ottawa discovered Kansas hideaways she never knew existed.
"I'm into bed and breakfasts," she said. "I think I'll plan a trip now."
Alice Crawford and her daughter, Sally Fowler, both of Ottawa, tasted a type of Kansas-raised meat they hadn't tried before: ostrich.
"It had a good texture," Crawford said. "I like it better than the reindeer we had in Alaska."
More than 4,000 people meandered through the festival Saturday.
It continues from 10 a.m. to 4 p.m. today at the 56-acre park in northwest Ottawa.
Admission is $5 for adults and $2.50 for children 7 to 14. Children 6 and under are free.
Two stages will feature live entertainment from cowboy poets, acoustic guitar players, singers and historic re-enactors.
Copyright 2018 The Lawrence Journal-World. All rights reserved. This material may not be published, broadcast, rewritten or redistributed. We strive to uphold our values for every story published.