Boston — If airtight underwear someday makes its way onto the shelves of America's department stores, thank Buck Weimer.
Seven years ago the Pueblo, Colo., therapist, came up with the idea of "Under-Ease" skivvies, complete with a flatulence filter.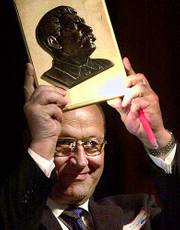 Weimer, 62, and a dozen other researchers, inventors and scientists received the 2001 Ig Nobel Prize on Thursday night for their unique, occasionally head-scratching, contributions to the world.
Weimer stresses that Under-Ease is a serious medical product. "While we appreciate the humor and get a lot of that we recognize that it's a medical product, and it's for people in need," he said. "We believe we're certainly fulfilling a service here."
"There are many prizes in the world for people who are the best at something ... There are a few prizes for the worst things. But most people are somewhere in between, and there's nothing for them," said Marc Abrahams, editor of the Annals of Improbable Research, the humor science magazine and host of the awards. "That's why there's the Ig Nobel Prizes. It's for the great muddle in the middle, where most of us are, most of the time."
David Schmidt, 31, was a bit chagrined at first to learn he was a winner for discovering that shower curtains billow inward because of air currents caused by water spray.
"My first reaction was, 'Oh my God, am I going to make a laughingstock out of myself and my university?"' he said.
Schmidt is an assistant professor of engineering at the University of Massachusetts and his major area of research is engine functions.
"Then I realized that I did this in the first place for the fun of it," he said. "I think every one realizes that there's no practical application."
Nobel Prize winners bestow the awards.
Copyright 2018 The Associated Press. All rights reserved. This material may not be published, broadcast, rewritten or redistributed. We strive to uphold our values for every story published.