Small towns, i.e., those without their own Wal-Mart, hold a regular, roughly semi-annual seduction for me. I simply adore echoing through empty post offices and griping about the impossibility of finding decent coffee. Anyway, I recently decided it was time to (temporarily) leave Lawrence for points littler, and so it happened that I braved a blinding rainstorm, complete with painful-to-the-paint-job hail, and headed north to Tonganoxie.
The good news about dining out in Tonganoxie is that the decision-making process was lightning-quick, and not because of the storm. Apart from fast food, there are about two choices. Bichelmeyer's Steakhouse, which is housed in an old mercantile building downtown, clearly seemed like the most interesting place. The bad news about dining out in Tonganoxie is that even the nicest place in town doesn't deliver a particularly gratifying dining experience.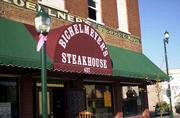 The "complimentary collector's menu" offers a brief history of both the town of Tonganoxie and the Bichelmeyer brothers, who owned a sandwich shop here more than half a century ago. Just in case you're searching for an accountant or a veterinarian, local advertisements line the sides of the menu. (The most intriguing is for somewhere called Vannelli Limited, with an ad that sports a picture of a lighthouse and the words "Simplicities of Life," but nothing more, not even a phone number.)
The spacious interior of Bichelmeyer's retains remnants of a time past, with a tin ceiling, stuffed bison head, and, most impressively, a massive wood bar. A piano player added a lively touch on one Friday night, but the TVs in the bar, which I consider a pernicious solution for atmosphere anyway, were broadcasting depressingly current events and thus failed to be either cheerful or escapist.
Our servers were better than the gum- and wise-cracking waitress variety, but were less than motivated. On one occasion, our waitress seemed not to make the connection that her performance bore a direct relation to her tip. Although she started out pleasantly enough, by dessert time she simply brought a tray, wordlessly rested it on the side of the table and stood there with a hint of impatience until we inquired what things were. When we asked her to come back in a minute, she passed our table several times (over the course of several minutes) before stopping again.
It's what's for dinner
Our food was serviceable but spotty. An appetizer of sauteed button mushrooms was tasty but arrived at the table only lukewarm. An order of potato skins came with four slices, generously filled with potato, but even with toppings of cheese, bacon and green onions they were disappointingly blah.
A classic surf and turf combined filet mignon with a lobster tail. Unfortunately the lobster was tough, and a ramekin of butter for dipping didn't make up for the fact that most of the lobster flavor had already been lost. The bacon-wrapped filet tasted fine, but was cooked medium-well instead of medium. On another visit, the ribeye steak was cooked medium-rare instead of medium, and the cut seemed of only mediocre quality (although Bichelmeyer's does purport to use choice grade beef).
Some spicy cocktail sauce that accompanied an order of fried shrimp made this dish consumable enough. I wish, however, that there had been a little more care taken to ensure the contrast between a tender body and a crispy batter, rather than something that merely achieved the minimum standard.
Sandwiches on the menu are quite varied, including hamburgers, barbecued brisket, a french dip, fish, turkey and grilled chicken. I tried the pork tenderloin. Again: edible but little more. The portion was sizeable, but the bun soggy. Lettuce, tomato and a kicky red sauce were better than nothing but otherwise the condiments were squandered as opportunity to punch up both the appearance and taste of this sandwich.
Bichelmeyer's does little to improve its overall performance with side dishes. The onion rings and baked potato were merely average, while the mashed potatoes were downright awful: flavorless, to be sure, but also with a limp, watery texture that literally made me shudder. Both the potatoes and the brown gravy tasted suspiciously NOT from scratch.
Bichelmeyer's is ultimately a sort of hybrid between a local hangout and a nicer restaurant. It's a useful breed, particularly in small towns, but one that in this case doesn't exploit its unique position to develop either a distinct local character or deliver really yummy food. I'm not demanding innovation here, but I'd like to see better overall performance.
As a small-town steakhouse, Bichelmeyer's is satisfactory it may be the only place in town that's "worth a taste" but it doesn't strike me as worth the drive. At the very least, I'd pick a clear day.
Copyright 2018 The Lawrence Journal-World. All rights reserved. This material may not be published, broadcast, rewritten or redistributed. We strive to uphold our values for every story published.