Paris — A French-Algerian man now jailed in France has given authorities a wealth of compelling detail, describing his recruitment at Osama bin Laden's home in Afghanistan for a suicide bombing against the U.S. Embassy in Paris.
Djamel Beghal's revelations, made last month in Dubai and described Tuesday by judicial officials, led authorities to arrest a number of other suspects in a broad plot to attack U.S. interests in Europe, the officials said.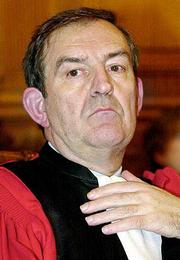 At a meeting at bin Laden's home in Afghanistan he was told by bin Laden's aide that "the time has come for action" and was offered three presents. The gifts were "on the part of Osama bin Laden," according to Europe-1 radio.
French anti-terrorism Judge Jean-Louis Bruguiere, in charge of the investigation, opened his probe into the alleged embassy plot on Sept. 10 a day before the catastrophic attacks in New York and Washington.
Still unknown is whether the current case has any links to the Sept. 11 attacks. For now, French officials say the cases are separate.
Beghal, 35, was placed under formal investigation Monday, a step short of being charged, for alleged links to a terror network, according to French judicial officials, who spoke on condition of anonymity. He had been extradited Sunday from the United Arab Emirates, where he was arrested in late July with a false passport.
Bruguiere traveled to Dubai late last month for Beghal's interrogation. Under questioning Sept. 22 and 23, Beghal outlined the plot for the suicide mission against the U.S. Embassy in Paris, to be carried out before March of next year, the judicial officials said. He spoke in great detail about being recruited by Abu Zubaydah, bin Laden's senior aide.
The embassy declined to comment on the alleged plot, other than to say: "This is part of an ongoing investigation by French authorities, in whom we have full confidence."
Now in Paris, Beghal was questioned again on Monday for 11 hours. Late Tuesday, his lawyer, Fabrice Dubest, told The Associated Press that his client had denied receiving orders to attack the U.S. Embassy.
However, officials say they still take very seriously the account that Beghal gave in Dubai. "At his new hearing on Monday," one said, "Beghal didn't give the precise target, but he never denied that there would be attacks."
According to the plan, another man Nizar Trabelsi, a Tunisian who was arrested Sept. 13 in Belgium was to penetrate the embassy, strapped with explosives. Also, a minivan packed with explosives was to explode outside the cultural section.
Beghal said he had signed a "pact" with Abu Zubaydah in March in Afghanistan, where he spent month at a training camp run by al-Qaida, bin Laden's organization. Bin Laden was apparently not present at the meeting, Beghal told investigators, but he said al-Qaida had deposited money for the operation in a Moroccan bank account.
Beghal said his job in the plot was to gather information and study the embassy's security plans. Officials said he told investigators in Dubai that he has now "renounced the cause" of bin Laden. "It is not true religion. I was deceived."
Elsewhere in Europe, details relating to the investigation continued to emerge. Authorities in Switzerland said that Mohamed Atta, believed by the United States to have been a leader of the hijacking teams in the terror attacks, spent several hours in Zurich on his way from Miami to Madrid in July. In Russia, a senior aide to President Vladimir Putin said at least four of the hijackers had trained in the breakaway republic of Chechnya.
Copyright 2018 The Associated Press. All rights reserved. This material may not be published, broadcast, rewritten or redistributed. We strive to uphold our values for every story published.