Topeka — Republican legislators voted Tuesday to split Lawrence between east and west, leaving Kansas University and eastern Lawrence in one congressional district and moving western Lawrence into another.
Speaking against dividing Lawrence between the 2nd and 3rd congressional districts, Democratic state Rep. Troy Findley of Lawrence summoned up images of Quantrill's bloody raid on the city.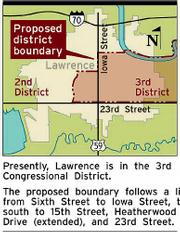 "This is the greatest split or raid on the community since 1863," Findley said.
At issue Tuesday was how to redraw congressional district boundaries to accommodate population changes recorded by the 2000 census.
Lawrence now is in the 3rd District along with Johnson, Wyandotte and Miami counties. Because of population growth in the district, boundaries must be redrawn to move 61,000 people from the 3rd District, equalizing population in the state's four U.S. House districts.
The joint committee on redistricting, led by Republicans, recommended that KU and eastern Lawrence remain in the 3rd District while western Lawrence and the remainder of Douglas County go to the 2nd District.
That recommendation, which will go to the 2002 Legislature when it convenes in January, runs counter to nearly every publicly pronounced hope of Lawrence officials.
Lawrence Chamber of Commerce and elected officials had said they wanted Lawrence to remain in the 3rd District because of business ties with the Kansas City area and KU's campuses in Johnson and Wyandotte counties.
If the city couldn't remain in the 3rd District, Lawrence officials said they wanted to keep the city together and placed in the 2nd District.
And if splitting Lawrence had to occur, some officials privately said they wanted the split to be even to ensure there would be enough Lawrence residents in each district so that each congressional representative would have to pay attention to their needs.
But the chosen split is uneven. Under the proposal passed by the joint committee, 50,000 residents would be in the 2nd District and 30,000 in the 3rd. In addition, as many as four voting precincts in Lawrence would be cut in half between the two congressional districts.
Court challenge likely
Bill Sepic, president and chief executive of the Lawrence Chamber, blasted the joint committee proposal as violating a redistricting principle that "communities of interest" must be kept in the same district.
"You can't have a stronger community of interest than a city," he said.
Sepic said the chamber's board had authorized him to seek legal assistance to prepare for a court challenge to such a redistricting plan.
But Sepic said he didn't believe he would need an attorney to challenge the proposal. He predicted that if the plan were adopted by the full Legislature, it would be overturned by the Kansas Supreme Court, which automatically reviews redistricting proposals.
Republican supporters of the plan said it was the only way to evenly apportion population among the four districts without dividing the metropolitan Kansas City counties of Wyandotte and Johnson.
"The cores of our existing congressional districts have been preserved," said Rep. Mike O'Neal, R-Hutchinson.
Undivided Lawrence has ally
The joint committee proposal was adopted 17-12, with all 17 votes for it coming from the Republican Party. The 12 opposed included 10 Democrats and two Republicans.
But even before the vote, the proposal was being shot down by a key lawmaker state Sen. David Adkins, R-Leawood, who is co-chairman of the redistricting panel.
Adkins was not at the meeting because of a previous speaking engagement in Wichita. Notified about the plan, he said it would have no chance of passing out of the Senate committee he chairs when the legislative session starts.
"Absent some sort of agreement with Lawrence business and community leaders, I don't see any interest in splitting Lawrence," Adkins said in a telephone interview. "Nothing is set in stone at this point."
But Adkins' comments were dismissed by at least one fellow Republican, Rep. Doug Mays of Topeka.
"I don't see how his particular views have any bearing on this proceeding," Mays said.
Political sniping
Political sniping flared occasionally during the meeting, which ended months of meetings and hearings on congressional redistricting.
Senate Democratic Leader Anthony Hensley of Topeka said redistricting maps proposed by Republicans were so inadequate that the maps should be laminated and used as place mats.
Republicans protested when a Democratic staff member tried to leave a tape recorder running to record a Republican caucus meeting, which was open to the public.
And Sen. Tim Huelskamp, R-Fowler, asked during consideration of redistricting maps involving Lawrence: "Are we going to have a candidate who can beat Dennis Moore with any of these maps?"
Moore represents the 3rd District and is the only Democrat in the Kansas congressional delegation. The 2nd District is represented by Congressman Jim Ryun, a conservative Republican.
Elsewhere in the state, the Republican plan made some changes including moving Junction City from the 2nd District into the 1st District while leaving nearby Fort Riley in the 2nd.
Copyright 2018 The Lawrence Journal-World. All rights reserved. This material may not be published, broadcast, rewritten or redistributed. We strive to uphold our values for every story published.