Lawrence High's boys soccer team bested the No. 1 team in the state on Tuesday at the Youth Sports Inc. fields.
The Lions (5-6) stopped previously undefeated Shawnee Mission South, 4-2.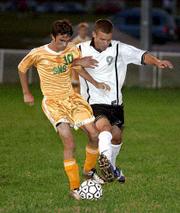 "They get no better than beating No. 1," LHS coach Keith Nelson said.
LHS stormed to an early 3-0 lead. Mike Foster scored off an assist from Joey Kelly. Kelly then scored unassisted. Next came a Josh Lorenzo goal off an Andrew Bailey assist.
South, however, scored two goals to creep within 3-2 at halftime.
The Lions outshot SM South 12-4 in dominating the final half. Jamie Peterson scored the only goal of the half off an assist from Foster.
"It was a fantastic win," Nelson said. "We were a little concerned when they cut it to 3-2. We had led Shawnee Mission Northwest 3-1 earlier in the year and they beat us. At halftime I kept saying, 'Shawnee Mission Northwest remember what it felt like when we lost.' I said they would come out strong and we'd have to raise our level.
"We played maybe the best soccer we've played. We hadn't put together 80 minutes of great soccer. Today we did."
Nelson said defensive standouts included Zach Stephens, Andrew Bailey, Josh Yurek and Roland deBoer.
"Honestly the entire team," he said.
The Lions will meet SM East at 7 p.m. Thursday at YSI.
Olathe East clips FSHS
Olathe Free State High received a valiant effort from junior goalkeeper Justin Howell, but it wasn't enough in a 1-0 defeat against Olathe East on Tuesday at Olathe District Activities Center.
"We had some opportunities in the first half," FSHS coach Jason Pendleton said. "We just didn't convert on them."
In addition to Howell who Pendleton said "played a really outstanding game" the FSHS coach also cited junior Cameron Baumchen for his defense.
Free State (7-3) returns to ODAC on Thursday to take on Olathe North.
Copyright 2017 The Lawrence Journal-World. All rights reserved. This material may not be published, broadcast, rewritten or redistributed. We strive to uphold our values for every story published.