A 32nd Street route for the uncompleted eastern alignment of the South Lawrence Trafficway won twin victories Tuesday: It won recommendation from a Lawrence task force and a vote of confidence from Baker University.
The task force convened by the Lawrence-Douglas County Planning Commission recommended the trafficway follow a 32nd Street route and that a part of 31st Street running through Haskell Indian Nations University be moved south onto Baker-owned land.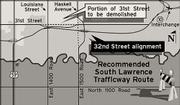 At the same meeting, Baker officials said in the strongest terms yet that the university was confident it would reach a deal with the Kansas Department of Transportation to significantly expand the Baker Wetlands in exchange for allowing the trafficway through university property.
If completed, the trafficway would connect Kansas Highway 10 east of Lawrence with Interstate 70 northwest of Lawrence. The western 9 miles of the road are finished and open, but the eastern third remains in the planning stage.
Planning commissioners will convene a special meeting at 6 p.m. Monday at City Hall to consider the task force's recommendation. The planning commission's recommendation then will be sent to the Lawrence City Commission and the Douglas County Commission. Those two groups have scheduled a joint meeting Oct. 23 to decide which route they will ask KDOT to build.
North vs. south
The task force split 5-2 with division among members who want a 32nd Street route and those who support a 42nd Street route south of the Wakarusa River.
The route winning majority approval has been labeled 32nd Street B. It crosses the Baker Wetlands several hundred yards south of 31st Street. The option also would vacate 31st Street between Haskell Avenue and Louisiana Street and through the southern portion of Haskell's campus.
The vacated road portion would be replaced with a new state-funded 31st Street built on Baker property immediately adjacent to the trafficway. Locating on Baker property would allow KDOT to acquire enough right-of-way for a six-lane trafficway and a four-lane 31st Street, though smaller versions of the roads might be built until traffic volumes warrant expansion, officials said.
"It seems like this 32nd Street route is the one that offers the most advantages to everyone involved," said County Commission Chairman Bob Johnson, a task force member. "It removes 31st Street off of Haskell property and it's the most advantageous to the city because it would allow 31st Street to be relocated largely at someone else's expense."
Support, opposition
A majority also expressed concern that a route south of the river would push city growth into that area before city officials can prepare for it.
"I don't want to recommend an alignment that encourages sprawl," said Mary Loveland, a Lawrence school board member who sits on the task force. "The closer this can be built to the city, the more it would seem to do to prevent sprawl."
But supporters of a southern route argued that the road should be built along 42nd Street because growth there is inevitable and the trafficway could be useful for city traffic when development occurs.
"I think in 25 years we'll really be wishing that we had that road there," said David Burress, a planning commissioner and task force member.
South-of-the-river support also came from planning commissioner and task force member John Haase, who said any route through the wetlands would face a longer legal challenge from environmentalists.
Baker support
Task force members were told a 32nd Street route seemed feasible to Baker. Larry Parkin, who chaired a Baker task force working with KDOT on a deal to allow the road through university property, said the process was going well.
"The only thing we don't have worked out right now is an exact dollar amount, but I'm confident we'll get that done," Parkin said.
Parkin revealed Tuesday that the committee and KDOT have drawn up preliminary plans for a 16,250-square-feet wetlands learning center that would include a 5,000-square-feet laboratory and 11,000 square feet for exhibits on the importance of wetlands and about the area's cultural and historical significance.
The center likely would be on property west of Louisiana Street that KDOT has purchased and would be willing to convert to wetlands and turn over to Baker to manage.
Parkin said the university still is negotiating with KDOT about how much state money would be needed for an endowment to maintain the wetlands center.
"We feel very good that KDOT has an interest in working with Baker to make this a first-class wetland facility," Parkin said.
KDOT Chief Counsel Mike Rees said he also was confident a deal would be struck.
"I don't think there is any question that we'll be able to reach an agreement," Rees said.
Copyright 2018 The Lawrence Journal-World. All rights reserved. This material may not be published, broadcast, rewritten or redistributed. We strive to uphold our values for every story published.