Washington — The Supreme Court opened its new term Monday with a rebuke of former President Clinton, suspending him from practicing law before the justices. Clinton was among 18 lawyers nationwide who got the same discipline.
The justices gave Clinton 40 days to say why he should not be permanently disbarred from practicing law before them. A Clinton lawyer said the former president would argue that high court disbarment would be inappropriate.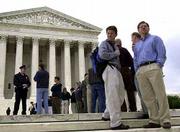 Clinton was admitted to the Supreme Court bar in 1977 but has never argued a case there. Most lawyers admitted there never do, but the right to do so is considered an honor.
The court did not explain its action, but Supreme Court disbarment often follows disbarment in lower courts. The court acted after it was notified by the Arkansas Supreme Court that Clinton's Arkansas law license was suspended for five years and he paid a $25,000 fine.
On a somber note in the courtroom Monday, Chief Justice William H. Rehnquist began the 2001-2002 term by asking fellow justices and others in the packed room to remember the hijacking victims and their families, including chief Bush administration appellate lawyer Theodore Olson, whose wife was killed in the plane that hit the Pentagon.
Olson removed his glasses and wiped his eyes several times as Rehnquist spoke.
In cases Monday, the court:
Turned down an appeal that would have allowed the justices to address the volatile issue of racial profiling. The case involved hundreds of young black men in the upstate New York city of Oneonta who contend police used skin color as the sole reason to round them up for questioning in a burglary case.
Rejected an appeal from convicted Oklahoma City bombing conspirator Terry Nichols, who sought a new trial based on the FBI's failure to give his lawyers thousands of documents from the bombing investigation.
Declined to review a lower court's decision that rumors spread to hurt a company are not entitled to free-speech protection. The case grew from Procter & Gamble's allegation that rival Amway and Amway distributors spread a baseless story that P&G; was linked to devil worship.
Refused to reinstate a Church of Scientology libel case over an award-winning Time magazine article portraying the religion as a greedy cult.
The justices had indicated earlier that they would hear important cases this year on school vouchers, affirmative action, the death penalty and child pornography.
In the Clinton case, the court followed its standard rules, which include suspending him from practice in the court and giving him a chance to say why he should not be disbarred.
Typically, the court issues a final disbarment order sometime after the 40 days elapse.
Clinton agreed to an Arkansas fine and suspension Jan. 19, the day before he left office, as part of an agreement with Independent Counsel Robert Ray to end the Monica Lewinsky investigation. Ray had taken over the prosecution from Kenneth Starr.
The agreement with Ray also satisfied the legal effort by the Arkansas Supreme Court Committee on Professional Conduct to disbar Clinton for giving misleading testimony in the Paula Jones sexual harassment case.
"This suspension is simply a consequence of the voluntary settlement entered into last January with the Arkansas Bar," said Clinton lawyer David E. Kendall. "Pursuant to the Supreme Court's order, we will show cause why disbarment is not appropriate."
Copyright 2018 The Associated Press. All rights reserved. This material may not be published, broadcast, rewritten or redistributed. We strive to uphold our values for every story published.