St. Paul, Minn. — State employees planned to strike this morning after failed contract talks prompted leaders of the two biggest employee unions to authorize walkouts.
Nearly 28,000 workers more than half of the state's work force could strike at 6 a.m. Only 1,700 prison guards are barred from walking off the job.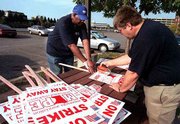 It would be the first government work stoppage in Minnesota since it suffered a 22-day strike two decades ago.
Leaders of the American Federation of State, County and Municipal Employees Council 6 unanimously agreed Sunday to recommend that its 19,000 workers strike, said Peter Benner, executive director.
"We've done this with great reluctance," Benner said. "This is not how we hoped this round of bargaining would end."
Benner said they were prepared to go back to the table at anytime but there would not be any more talks Sunday. "The strike is on," he said.
The 10,500-member Minnesota Association of Professional Employees also gave the go-ahead Sunday. Mediation between the two unions and state negotiators broke off late Saturday.
"The reason it has come to this is a resignation on the part of state workers that enough is enough," said Jim Monroe, MAPE executive director. He said there was an "extremely slim" chance they would resume negotiations.
Gov. Jesse Ventura hasn't been closely involved in the contract talks, but did order some 1,000 National Guard members to train for work in state-run veterans homes, treatment centers and other care facilities.
Nonstriking managers also will be redeployed to help with food service, housekeeping and other basic needs.
Lt. Col. Denny Shields said strike duty shouldn't interfere with other obligations, including the Guard's new airport security assignment. Minnesota has about 12,000 Guard members.
If all eligible state employees strike, Minnesota's government would be deprived of more than 50 percent of its workers.
The office that issues driver's licenses and auto registrations warns of probable delays. The state crime lab expects to limit entry of fingerprints and convictions into databases used for criminal background checks. The Minnesota Zoo likely will close to the public, but managers will care for the animals.
Julien Carter, commissioner of the Department of Employee Relations, said thousands of airline industry-related layoffs and possible military action make a strike even less desirable.
But he said negotiators did all they could.
"When you look at the economy and consider what's coming down the line, the state has been more than generous," he said. "We do value our employees, but we have to have contracts we can afford."
Copyright 2018 The Associated Press. All rights reserved. This material may not be published, broadcast, rewritten or redistributed. We strive to uphold our values for every story published.