An exhibition of artworks hanging in the Art and Design Gallery at Kansas University is the first step to establishing a faculty and student exchange program between KU and the School of Drawing and Painting at the Edinburgh College of Art and Design in Scotland.
For the past week, Gordon Brennan and John Brown, lecturers in drawing and painting at Edinburgh College, have been in Lawrence to teach master classes, talk with faculty and help set up the exhibit.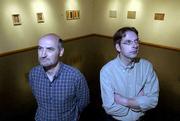 The School of Drawing and Painting has about 280 students, while Edinburgh College has an enrollment of 1,500 to 1,800 students, they said.
Combined enrollment at the Lawrence campus and the Edwards campus in Overland Park is 25,782, while about 160 KU students are fine arts/studio majors.
"We share a similar philosophy about art and art education," Brennan said, referring to KU and his university. "Sometimes we are divided by a common language, but we share the same ideas about where our education should be going."
Brennan and Brown believe that drawing classes must be a core element of any art school's curriculum, not a class students take for a semester or two but something they enroll in throughout their four years of study.
What: An exhibit of works by faculty of the School of Drawing and Painting at the Edinburgh College of Art and Design, Edinburgh, Scotland. When: Through Saturday. Where: Art and Design Gallery, Art and Design Building, Kansas University.
"It's about a technique, but it's a way to analyze the world and what you see," Brennan said. "If you don't have an idea (behind your art), it's just an image."
The exhibit features several works by 17 Edinburgh faculty members. All of the works are smaller than 20 square inches to bring uniformity to the show and to allow greater shipping ease.
Among the works are "Classics," a series of 21 computerized figurative images showing men and women in classic poses by Beverley Hood; "White Noise," a collage and acrylic on panel by Brown; and "Five Easy Pieces," a mixed-media work by Brennan.
At a distance, Brown's work looks like an impressionistic painting. In reality, it's a collage of small drawings of everyday objects that have been randomly placed on the background.
"(At first) it looks like it's an abstract, but then you realize it's representational," Brown said.
Brennan's work is made of found objects placed behind glass, as if they are being displayed as museum artifacts. The objects include broken sculpture, industrial felt and a part from an old wireworks factory.
"I'm interested in industrial archeology," he said, adding that he likes to collect and catalog objects.
In November, KU art professors Judith McCrea, Roger Shimomura and Tanya Hartman will travel to Edinburgh for a similar exchange exhibit that will feature the work of Phil Blackhurst, Jane Asbury, Yoonmi Nam, Hartman, Shimomura, Peter Thompson, Cima Katz, Michael Krueger, Rik Dishinger, John Hachmeister, McCrea, Bhakti Ziek, Maria Velasco, Mary Anne Jordan, Robert Price, Carol Ann Carter, Robert Brawley and Gerald Lubensky.
This marks the first time KU faculty have shown their work together in another country. Although the Yale School of Art and the KU architecture department have longtime exchange relationships with their respective departments in Edinburgh, this is the first time the Scottish college and the KU art department have coordinated efforts.
Copyright 2017 The Lawrence Journal-World. All rights reserved. This material may not be published, broadcast, rewritten or redistributed. We strive to uphold our values for every story published.