Jen Shaffer wants to open her home to other people's children.
She's in the process of getting her south Lawrence home registered through the Lawrence-Douglas County Health Department so she can have a day care.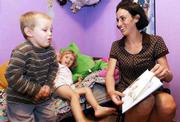 "I want to keep it small, maybe four or five kids, so I could pay special attention to each one," she said.
Shaffer, 24, understands not all parents are able to stay at home with their children as she does with her 3-year-old daughter, Cheyenne.
"Some people aren't able to do that, so I just want to be able to do something for someone else," she said. "I just love kids so much, and I always thought my place was in the home raising my children."
Shaffer is joining the more than 300 child-care providers in Douglas County.
A growing need
Though demand for day care remains high, the county saw the number of providers drop from 313 in 1999 to 300 in 2000. Now the number of providers has risen to 303.
Tina Ferguson, the Health Department's child-care licensing coordinator, said the county has 11 more licensed day-care homes and nine fewer registered day-care homes compared to last year.
"That's really an increase of 56 available slots," she said. "There's a higher capacity with licensed homes."
A licensed home can have as many as 10 children, depending on the ages, and is inspected annually and upon complaints by the department. A registered home can have a maximum of six children and is only inspected upon complaint.
Child-care spaces also were added for other age groups.
Ferguson said one child-care center added eight more spaces for infants and toddlers, and there are 84 more preschool spaces available at two centers. She said the openings help parents who have difficulty finding child care.
"Anytime you're able to offer more options, that's a bonus," she said. "Then, parents have a choice where they would like for their children to be cared for."
But Ferguson said there's still not enough options for parents with infants or toddlers, from 6 weeks old to 30 months old.
For example, KinderCare Learning Center, 2333 Crestline Drive, has a waiting list of about a dozen infants over the next three months.
"You'll find that just about everywhere in Lawrence," said Katy Kinney, the center's assistant director. "Parents have a baby, and they want to get back to work. That's where we see the real demand."
The center, accredited through National Association of Educating Young Children, is licensed for 92 children and has about 80 children now. Kinney said the center does have several openings for preschool-age children.
At the Douglas County Child Development Assn., Director Sandy Blair said 67 percent of the 99 calls received during September were from parents looking for infant and toddler care. The association acts as a referral agency for parents and as resource for providers.
She said 102 of the 176 providers, registered through the association, provide care for children under 12 months. Efforts are being taken to help increase those numbers.
State assistance
This year, Blair said the association, in partnership with the Lawrence-Douglas County Success by 6 Coalition, began Smart Start Kansas. The program, through a $47,000 grant, assists licensed providers who take care of infants and toddlers.
Through the program:
Licensed providers may be reimbursed up to $400 a year for purchasing health and safety equipment, which is used in the care and teaching of infants and toddlers.
Providers can be subsidized up to $60 a week for opening up a new slot for infants or toddlers.
Blair said a provider actually loses two full-time slots by caring for an infant. Instead of having 10 full-time children, she said a provider can have five preschool-age and four school-age children with one infant.
"We're hoping this subsidy can kind of take an edge off the disadvantage (of making less money) and make it worthwhile to take care of infants," she said.
Other grants and scholarships also are available for licensed providers.
Copyright 2018 The Lawrence Journal-World. All rights reserved. This material may not be published, broadcast, rewritten or redistributed. We strive to uphold our values for every story published.