St. Louis — Even the Miami Dolphins couldn't beat Kurt Warner indoors.
Warner threw four touchdown passes, and Marshall Faulk scored three times Sunday in a 42-10 victory in a game pairing unbeaten teams.
Miami (2-1) was supposed to pose a stiff test, but the Rams, who sputtered at times in their first two games, rolled up 451 yards in total offense, and Warner engineered a 99-yard scoring drive in the third quarter.
Warner has never lost at home, going 16-0 in the Dome at America's Center counting regular season and playoffs. He was 24-for-31 for 328 yards and no interceptions.
"We are not used to teams moving the ball like that on us," Dolphins cornerback Patrick Surtain said.
The Dolphins were ranked eighth in the NFL on defense, and their reputation was probably better than that.
"He is that good, let's face it," coach Mike Martz said, referring to Warner. "People need to start realizing that you don't line up against a defense like that and do what he did."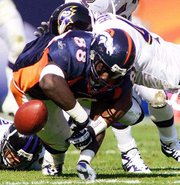 In the first two games, both outdoors and on the road, Warner had four touchdown passes and three pickoffs. The Rams lost three in a row at home last November, but Warner was out with a broken finger.
"I played in a dome in college. I played inside in Arena Football. I just love playing inside," Warner said. "It's my element, it's what I'm comfortable with."
It was a delayed home opener for the Rams (3-0), who were to have opened Sept. 17 against the Falcons. Besides the pregame ceremony honoring victims of the terrorist attacks, offensive line coach Jim Hanifan, a U.S. Army veteran, waved a large American flag at the 50-yard line before the national anthem.
Perhaps even more impressive than the 99-yard drive that made it 28-10 was Warner's 1-yard touchdown pass to Faulk on the last play of the first half, making it 21-10. Warner delivered the ball while in the grasp of linebacker Scott Galyon, and after the pass, he was slammed to the turf by Jermaine Haley and Brock Marion.
"It never hurts quite as much when you get a touchdown out of it," Warner said.
Warner opened the game going 8-for-8 for 68 yards on a 10-play drive capped by a 3-yard touchdown pass to Ricky Proehl, giving him 13 straight completions in a span of two games. Warner caught Torry Holt in stride on a 45-yard score in the fourth quarter.
"I'll refer to him as Marino," Dolphins defensive tackle Daryl Gardener said of Warner. "Randy Johnson, Dan Marino: He threw nothing but strikes."
Faulk, who scored an NFL-record 26 touchdowns last year, has four in the first three games. He finished with 88 yards on 19 carries and six catches for 72 yards, also scoring on a 10-yard swing pass in the first half and a 1-yard run.
"Forty-two points is nice, but we strive for perfection," Faulk said.
Patriots 44, Colts 13
Foxboro, Mass. Otis Smith and Ty Law returned interceptions for touchdowns and the New England Patriots got their first victory of the season, 44-13 Sunday over previously unbeaten Indianapolis.
The Colts (2-1) averaged 33 first-half points in their two victories as Peyton Manning threw six touchdown passes. But he also threw four interceptions, and that tendency continued against the Patriots, who led 20-0 at halftime.
Antowain Smith ran for 94 yards and two touchdowns. Smith's interception return was for 78 yards, and Law's was for 23.
Adam Vinatieri kicked three field goals as the Patriots (1-2) won without quarterback Drew Bledsoe.
Ravens 20, Broncos 13
Denver Itching to prove their playoff flop was an aberration, the Broncos were again frustrated by Baltimore's defense in a 20-13 loss to the Ravens.
Baltimore held Denver to 228 yards total offense and Qadry Ismail and Travis Taylor each caught touchdown passes.
Elvis Grbac threw a 3-yard TD pass to Taylor with 8:51 remaining to give the Ravens a 20-13 lead. Grbac has won five straight against Denver.
The Broncos drove to the Baltimore 19 on their ensuing possession before turning the ball over on downs. Their final drive also fell short when Corey Harris intercepted Brian Griese's pass at the Ravens 27.
Griese was 17-of-33 for 191 yards and threw his first two interceptions of the season.
Packers 28, Panthers 7
Charlote, N.C. Brett Favre passed for 308 yards and three touchdowns, two coming after Carolina fumbles by Steve Smith, as Green Bay remained undefeated.
The Packers also received two field goals from Ryan Longwell, 128 total yards from Ahman Green and a defense that held the Panthers (1-2) to 169 yards.
Favre, completely healthy for the first time in years, shook off two early interceptions to lead the Packers (3-0) to 28 consecutive points and their seventh straight victory dating back to last season.
Green Bay took control after rookie kick returner Smith fumbled on Carolina's first two kickoff returns of the second half.
Giants 21, Saints 13
East Rutherford, N.J. Michael Strahan had three sacks, and Ron Dayne and Tiki Barber set up their own second-quarter touchdown runs with big plays. New York (2-1) won the first game at Giants Stadium since the terrorist attacks.
Kerry Collins added a 46-yard touchdown pass to Joe Jurevicius with 6:05 to play for the Giants, who practice on a field in sight of the ruins of the twin towers.
The game had a tight ending as Sam Garnes and rookie Will Peterson broke up passes in the end zone, giving New Orleans (1-1) one final shot from the New York 9 with 4 seconds to play.
Willie Jackson caught Aaron Brooks' pass after shoving cornerback Emmanuel McDaniel. Offensive pass interference, the 14th penalty against the Saints, was called, ending the game.
Vikings 20, Bucs 16
Minneapolis Daunte Culpepper scored from 8 yards with 1:03 left to cap a 96-yard drive that gave Minnesota its first victory after two losses.
Tampa Bay drove to the Minnesota 17 in the waning seconds, but Eric Kelly sealed the victory when he intercepted Brad Johnson's pass that glanced off Keyshawn Johnson's hands.
The Buccaneers (1-1) went ahead earlier in the fourth quarter on a 6-yard run by Warrick Dunn. They also had three field goals from Martin Gramatica. Culpepper was 30-for-44 for 322 yards, one touchdown and two interceptions.
Steelers 20, Bills 3
Orchard Park, N.Y. Cornerback Dewayne Washington ran Travis Henry's fumble 63 yards for a touchdown, carrying Pittsburgh past Buffalo, which opened a season 0-3 for only the second time since 1986.
While the Steelers offense sputtered, rusty in part from a 21-day break, Washington's play highlighted a strong defensive effort. Pittsburgh sacked Rob Johnson four times and held the Bills (0-3) to 172 yards.
Johnson, who appeared to hurt his right foot, left the game with under four minutes left and finished 13-for-22 for 104 yards.
Chargers 28, Bengals 14
San Diego Rookie running back LaDainian Tomlinson broke loose for touchdowns on three straight second-half possessions.
Tomlinson turned a tie game into a blowout with his powerful runs, including scores of 4, 2 and 3 yards. He finished with 107 yards on 21 carries for his second 100-yard game in three starts. Tomlinson, the player the Chargers coveted over Michael Vick in April's draft, has 310 yards and five touchdowns in three games.
San Diego's suffocating defense forced four turnovers, including Jon Kitna's first three interceptions of the season. Cornerback Ryan McNeil had two pickoffs, giving him five this season.
Raiders 38, Seahawks 14
Oakland, Calif. Jerry Rice scored his first two touchdowns with Oakland as the Raiders scored the first 38 points.
Rich Gannon rushed for a score and also completed 19 of 28 passes for 217 yards and three TDs. Rice had five receptions for 91 yards.
Rice's vintage afternoon came one week after Miami limited him to one late catch in the Raiders' lackluster loss. His two TDs ran his NFL record to 189, 178 on receptions.
Oakland sacked Matt Hasselbeck six times and batted down several passes, while cornerback Eric Allen scored the Raiders' second TD on a 25-yard fumble return.
Browns 23, Jaguars 14
Jacksonville, Fla. Tim Couch led Cleveland to the go-ahead field goal, and Daylon McCutcheon sealed the game with a 32-yard interception return for a touchdown.
Couch finished 24-for-34 for 249 yards, and Jamel White rushed for 64 yards and a touchdown after taking over for James Jackson, who left in the second quarter with injured ribs.
Falcons 34, Cardinals 14
Tempe, Ariz. Chris Chandler threw for three touchdowns, two to Terance Mathis, and rookie Jay Feely kicked field goals of 34 and 55 yards as the Falcons routed the Cardinals 34-14.
With the two scoring receptions, Mathis passed Andre Rison as the Falcons' career leader with 57.
Maurice Smith rushed for 80 yards and a touchdown in 21 carries. Smith, who didn't carry the ball in Atlanta's first two games, also went 79 yards for a touchdown on a short pass from Chandler.
Eagles 40, Cowboys 18
Philadelphia Donovan McNabb threw for three touchdowns and Correll Buckhalter ran for 99 yards and a touchdown, leading the Philadelphia Eagle.
The Eagles (2-1) scored 26 points in the second quarter off four fumbles and a blocked punt. Dallas (0-3) turned the ball o er five times and couldn't generate anything on offense, getting just one first down and 11 yards in the first half.
Copyright 2018 The Associated Press. All rights reserved. This material may not be published, broadcast, rewritten or redistributed. We strive to uphold our values for every story published.