KANSAS CITY, KAN. — Yonder from "Autograph Alley" on the Kansas Speedway infield sits a Winston Cup race car, painted blue and yellow and bearing a track logo.
Fans who wander past the race car soon learn they can climb through the window Winston Cup cars don't have doors and sit in the driver's seat, work the gear shift, turn the wheel, etc.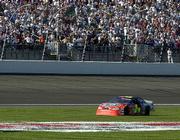 And because the hood is raised, fans can look at the hey, wait a minute, where's the power plant? Aren't those grills? Sure enough, the fellow standing in front of the race car's grill was tending hot dogs on one of the two grills.
And so I asked the inevitable question.
"Yeah," the man said, smiling, "people are very surprised when they look in here and see a grill full of hot dogs."
Those "stadium sirloins," as you may have guessed, were being prepared for sale at the nearby concession stand.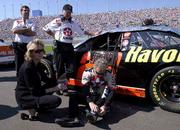 That two-grill engine is proof Kansas Speedway doesn't take everything seriously, even though the fans do. I counted a mere three or four fans in the infield area, for example, who were not wearing either a T-shirt, sweatshirt or cap emblazoned with the name of their favorite driver.
I saw clothing and caps bearing the names of Ward Burton, Bobby Labonte, Bill Elliott, Tony Stewart and, of course, points leader Jeff Gordon. Many people also wore black with the numeral 3 in reverence to Winston Cup legend Dale Earnhardt, who was killed in a wreck at the season-opening Daytona 500.
In baseball, they come out early to watch batting practice. In football, they arrive early to tailgate. In auto racing, they show up early to watch the vehicle inspections a methodical ho-hum process involving officials clad in red and black using templates, calipers and tape measures to assure adherence to the rules.
(Winston Cup drivers wouldn't cheat, would they. Nah. It's a gentleman's sport).
Still, "Autograph Alley" is as close to a race car as most fans will ever be. They could, in fact, reach out and touch the cars if the fence weren't in the way.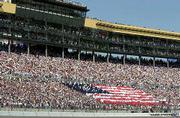 I noticed more openings along the fence when the cars of such lesser lights as Derricke Cope, Jason Leffler and Buckshot Jones were pushed by pit crew members from one inspection station to the next. Larger crowds ogled the cars of Gordon, Ricky Rudd, Dale Jarrett, Bobby Labonte and other "name" drivers.
I looked and looked, but I didn't see a single Buckshot Jones T-shirt, sweatshirt, cap, drink cosey, key chain or flag or whatever, and it wasn't because of slip-shod marketing. It's because Jones ranks close to the bottom in Winston Cup driver standings.
Then again, I didn't see any Ryan Newman stuff, either, and Newman, of all people, finished second to Gordon on Sunday. Newman is just a part-timer on the Winston Cup circuit so his runner-up finish couldn't have been more surprising if it had been, well, Buckshot Jones.
As for the race itself, somebody quipped it contained more yellow flags than Saturday's Kansas State-Oklahoma football game. Not quite, but Sunday's race lasted nearly as long as the four-hour and three-minute KSU-OU contest in Norman.
Officially, the first Winston Cup race in Kansas had 13 caution flags, one late red flag to clear track debris and consumed 3 hours, 48 minutes and 26 seconds. So many accidents were caused by right front tire failure that I made sure I checked my right front tire before I headed back to Lawrence.
Gordon, as usual, escaped car trouble and avoided mishaps, and will forever be able to say he won the first Winston Cup race at Kansas Speedway. Gordon said all the right things afterward, giving credit to his crew and stressing how unfortunate it was that Rusty Wallace and Bill Elliott, who challenged him for most of the race, were wiped out by a penalty and blown engine respectively.
Gordon's goody-goody image and good looks have cost him some fans mostly the envious type yet it should be noted he did utter one negative comment. It was about the new movie, "Zoolander" he and his wife had seen the night before.
"I'm a Ben Stiller fan," Gordon said, "but don't go see it."
If Gordon is as good a film critic as he is a race driver, that flick is a real bomb.
Copyright 2018 The Lawrence Journal-World. All rights reserved. This material may not be published, broadcast, rewritten or redistributed. We strive to uphold our values for every story published.