Washington — If the United States attacks terrorist targets in Afghanistan, soldiers will have to deal with not only armed resistance but also with cascades of starving, desperate and fearful refugees.
Military officials must plan how the armed forces will help ease the humanitarian crisis and avoid killing civilians. Failure on either point could turn public opinion against the war on terrorism, not only in the United States but throughout the region and around the world.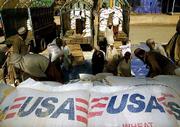 That's a tall order for a country ravaged by 22 years of war, five years of the harsh Taliban regime and two years of drought.
Afghanistan has been the world's No. 1 source of refugees for the past 20 years, with about 3.6 million currently in Pakistan, Iran and other countries. Thousands more Afghans have fled their homes since the Sept. 11 terrorist attacks in the United States, fearing retaliatory strikes against suspect Osama bin Laden and the Taliban militia that shelters him.
Many Afghans were on the edge of starvation before the attacks and have fled to the countryside, where food is even more scarce. The Taliban also kicked out all foreign aid workers this month and threatened Afghan relief workers with execution if they contacted anyone outside the country. United Nations officials left behind only a two weeks' supply of food.
"What's amazing is how much damage can be done without even starting military action," said Kathleen Newland of the Migration Policy Institute in Washington.
U.N. Secretary General Kofi Annan on Thursday appealed for $584 million to aid 7.5 million Afghans over the next six months. On Friday, President Bush directed the State Department to release $25 million to help with Afghan relief efforts.
On Saturday, a convoy carrying 200 tons of wheat left Pakistan for Kabul, the Afghan capital the first food aid since the terrorist attacks.
U.S. military leaders are "very closely watching how the humanitarian crisis is developing," Pentagon spokesman Lt. Col. George Rhynedance said Saturday. The State Department is leading U.S. government efforts to deal with the refugees, and the Defense Department is consulting with diplomatic officials and humanitarian groups "to determine the proper course if there is a defense piece to this," Rhynedance said.
Civilian concern
If there is military action, the refugee problem will only get worse once the shooting starts. One problem is that fighters may mix with the crowds of refugees, giving U.S. soldiers the dilemma of whether to fire into such groups.
Another problem is that with Pakistan's border formally closed to try to keep terrorists contained in Afghanistan, many refugees have no place to go. One U.N. "worst-case" scenario describes 1 million new Afghan refugees in Pakistan, up to 400,000 in Iran, 50,000 each in Turkmenistan and Tajikistan, and 10,000 in Uzbekistan.
"You're going to have people trying to cross borders that are closed to them, trapping them where they have nothing," said Hiram Ruiz of the U.S. Committee for Refugees. "It's going from incredibly bad to incredibly worse."
Starvation and disease are the biggest concerns.
"In any crisis like this, particularly with this lethal combination of conflict and drought, what kills people is not bombs and bullets," Newland said. "What kills people is disease and hunger, cholera and dehydration. That's where the civilian casualties will come from, if there are civilian casualties."
Fanning opposition
Civilian casualties, whether directly from military fire or indirectly through starvation, could boost anti-American sentiment in the region, giving more political power to bin Laden and the Taliban. Images of dead civilians also could erode public support for the campaign inside the United States. That has happened in previous actions like the wars in Korea and Vietnam and the bombing of Serbia to protect Kosovo in 1999.
About two-thirds of the public supported the U.S. bombing campaign in Serbia during its opening weeks, but dropped to about half of the population after the accidental bombing of the Chinese embassy in Belgrade.
One lesson learned from Kosovo is that the military needs to prepare to deal with refugees before the shooting starts. The thousands of refugees that fled Kosovo after the bombing started caught the U.S. military off guard, and ground troops went from preparing for an invasion to helping set up refugee camps and performing peacekeeping operations.
"We have always, until the recent past, waited at the borders for people to come out and have set up refugee camps across the borders," said Newland, a former worker with the U.N.'s refugee agency.
"One of the things we realized in Kosovo was that people were in desperate difficulty inside the country and were not able to get away. We need to be thinking about cross-border deliveries of food, making food available to people on the borders willing to take it in themselves."
Copyright 2018 The Associated Press. All rights reserved. This material may not be published, broadcast, rewritten or redistributed. We strive to uphold our values for every story published.