In the debut of NASCAR's Winston Cup at the Kansas Speedway, Lawrence was more of a pit stop.
Hotels filled, and restaurants saw increased business in the morning and evening, but race fans sped out of town during the rest of the day.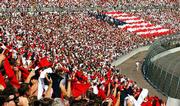 At Montana Mike's Steakhouse, 1015 Iowa, a busy Saturday night was followed by a normal Sunday crowd, Manager Damon Hoar said.
"We had a record night last night," he said Sunday. "But that was the only time."
Lawrence Burton, general manager of Sonic Drive-In, 1003 N. Third St., said weekend business was ordinary.
"There was a little bit more than usual, but it wasn't spectacular," he said. "We were hoping for a really big push."
Westminster Inn & Suites, 2525 W. Sixth St., was booked for the entire weekend, said Ryan Talbott, a front desk employee. He estimated about 65 percent of the clientele were race fans.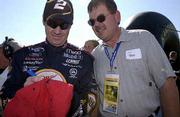 "I don't know that it's going to have that much of an impact, other than restaurants and hotels," he said of the speedway. "Most of the people spend their days out at the track."
Judy Billings, director of the Lawrence Convention and Visitor's Bureau and senior vice president of the Lawrence Chamber of Commerce, said it was hard to determine the economic impact of the speedway.
"Unlike a football game day, the racetrack does not generate the internal spending that football games do," she said.
Although hotels were full, Billings said the the speedway crowds this past weekend didn't spend much time shopping.
As races continue at the speedway, she hopes to increase awareness of Lawrence.
"It's just going to take awhile for us to reach the right people," she said. "We just have to get the word out to fans that Lawrence is just as close as Kansas City."
Steve McCoy, owner of Paradise Cafe, 728 Mass., said business was up Saturday evening and Sunday morning, but not quite to the levels of a football game. He attributed the increase to NASCAR fans.
"I've seen a very nice impact for downtown," he said. "Right now, I'm looking out my window and I'm seeing more people walking more than usual for a Sunday afternoon."
Copyright 2018 The Lawrence Journal-World. All rights reserved. This material may not be published, broadcast, rewritten or redistributed. We strive to uphold our values for every story published.