Landover, Md. — One coach got his first taste of success with his new team. The other is on the verge of redefining failure for the Washington Redskins.
The Kansas City Chiefs scored on seven straight possessions, and Priest Holmes had 225 yards of total offense as coach Dick Vermeil avoided his first 0-3 start with Sunday's 45-13 victory over the Redskins.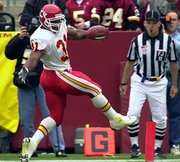 "The way that you saw all of us kind of like 'boom, boom' down the field, a pass here, a run there that's the way that this offense works," said Holmes, who had 147 yards rushing and 78 yards receiving.
A 28-point second quarter got Vermeil over the hump, while old friend Marty Schottenheimer is running out of ways to explain his embarrassment. Schottenheimer, making his Redskins home debut, is 0-3 for the first time in his 16-year career and was booed when his picture appeared on the replay screen at halftime.
"I'm as disappointed as any time I've been in my coaching experience," said Schottenheimer, losing to the team he coached for 10 years. "I've never been through anything like this. It just deepens my resolve. It's going to be a lot of hard work."
Security was tight in the first game in metropolitan Washington since the terrorist attacks on Sept 11. Lee Greenwood sang "God Bless the U.S.A.," and the Redskins' coaching staff wore baseball caps depicting the Pentagon.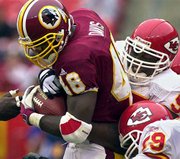 The Redskins have been outscored 112-16 in their three games, and players have questioned the direction the new coach is taking them. In each game, they have allowed a 100-yard rusher, but this display of missed tackles and mental gaffes was even worse. Marco Coleman and LaVar Arrington missed the game with injuries, but there was more than enough fault to go around.
"It was downright disgusting," defensive end Bruce Smith said. "I'd like to use a few more adjectives, but I can't. At times like this, it's best if less is said because a person can fly off the handle. We couldn't stop the run. That isn't acceptable. They dictated everything to us. It isn't supposed to be like that. This is really dismal."
Vermeil pointed out that new systems always take a while to get on track, but the Redskins' defense quickly turned the Chiefs into an offensive powerhouse.
Holmes, who had only 51 yards rushing in the first two games, had 99 yards rushing and scored three times in the second quarter alone. The Chiefs (1-2) scored 28 points in the quarter they had only 27 in losses to the Raiders and Giants.
Trent Green, whose quarterback rating was third from the bottom in the AFC entering the game, was 8-for-9 for 133 yards in the second quarter and finished 21-for-26 for 307 yards with three touchdowns.
"I don't know if he can play any better," Vermeil said. "They work, they work, and today they got their reward. This isn't going to happen very often, and what we have to do is enjoy it."
The Redskins only consolation was their first touchdown of the season. Tony Banks, taking over after Jeff George was cut on Wednesday, ended the drought with a 26-yard pass to rookie Rod Gardner with 3:39 to go in the first half.
Trailing 3-0 at the end of the first quarter, the Chiefs went to an obvious formula: run, run and run some more, then catch the secondary off guard with a pass to All-Pro tight end Tony Gonzalez, who had five catches for 88 yards.
A sequence in the first scoring drive included seven consecutive running plays, a pass to Gonzalez, then a 4-yard touchdown run by fullback Tony Richardson. Holmes caught a 24-yard pass for the second score and ran 7 yards for the next one.
Kansas City got the ball at its own 30 with 32 seconds left in the half and managed to score using no timeouts on just three plays two of them inside handoffs to Holmes. Holmes made Fred Smoot whiff and dragged Sam Shade into the end zone on a 24-yard TD run with 10 seconds remaining.
Green hit Gonzalez and Chris Thomas for a pair of 3-yard scores in the second half.
The Redskins actually had a promising start, holding the ball for seven minutes on their opening drive and getting to the Kansas City 30 on their second possession.
The first ended with back-to-back passes caught at the edge of the end zone, both ruled out of bounds. Schottenheimer challenged one and didn't win; he decided not to challenge the second.
Notes: Redskins linebacker Shawn Barber injured his right knee. He said he'd be out two weeks. ... Schottenheimer was 10-0 in home openers when he coached Kansas City. ... The Chiefs broke a four-game road losing streak.
Copyright 2018 The Associated Press. All rights reserved. This material may not be published, broadcast, rewritten or redistributed. We strive to uphold our values for every story published.