Cleveland — As champagne soaked Cleveland's clubhouse from floor to ceiling, Charlie Manuel toasted the Indians' AL Central title the only way he could.
He raised a glass of cranberry juice.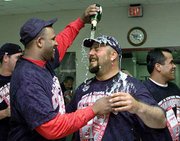 The Cleveland Indians returned to the top of the division they've always believed was theirs, clinching their sixth division crown in seven years with a 9-1 win Sunday over the Minnesota Twins.
However, as the players celebrated, their thoughts were with Manuel, who remains hospitalized with an abdominal infection.
"This one's for Charlie," said first baseman Jim Thome, his shirt and cap drenched. "Charlie's our leader. We'll celebrate this one without him, but hopefully he'll be here for a few more."
Bartolo Colon pitched eight shutout innings and Thome hit his 49th homer as the Indians routed the surprising Twins, the team they had to chase down in the second half to get back into the playoffs.
After injuries led to a second-place finish behind Chicago and deprived them of a postseason berth last year, Cleveland set out in 2001 to reclaim the Central, which it won from 1995-99.
And once they finally reeled in the Twins following the All-Star break, there was no stopping the Indians.
"Clinching in front of our fans was great," said Kenny Lofton. "But I'm glad we clinched it against Minnesota. They knocked us out last year, I didn't like that."
When Omar Vizquel flipped to second baseman John McDonald for the final out, the Indians merely walked out of their dugout like they had following 88 previous victories this season.
They gathered at the pitcher's mound for heartfelt hugs before walking as a group to center field where popular pitcher Charles Nagy helped hoist the division pennant.
The Indians picked Nagy, who has the longest tenure on Cleveland's roster, to raise the flag.
The right-hander pitched until August despite having no cartilage in his elbow, and after ending his season prematurely, he rejoined the club recently to pitch batting practice.
"He didn't want to do it," said Lofton. "But the vote was 39-1."
An emotional Nagy was overwhelmed by the gesture.
"I tried to give it back," Nagy said. "They wouldn't take it. I can't put into words my feelings. I was very honored."
Ellis Burks added a two-run homer and Jolbert Cabrera and Lofton had two RBIs apiece as Cleveland finished the season 14-5 vs. Minnesota.
The Twins, who led the division by five games on July 16, fell to 26-43 since the break.
"The Indians beat us fair and square," said Twins manager Tom Kelly.
"They're clearly the best team in the division and now we've got to root for them and hope they represent the Central very well."
Manuel said he'll probably be released from the Cleveland Clinic on Monday and will likely rejoin the club next weekend in Toronto.
Mariners 6, Athletics 3
Seattle Ichiro Suzuki extended his rookie hits record with his eighth homer and Seattle moved closer to the AL wins record.
The Mariners (111-45) tied the 1954 Indians as the third winningest team in major league history. With six games to go, Seattle needs three wins to tie the 1998 New York Yankees for the AL wins record and five to match the 1906 Chicago Cubs for the most ever in the majors.
Suzuki went 1-for-4 and leads the AL with a .348 average and is tops in the majors with a rookie record 235 hits. John Olerud also homered for the Mariners against Tim Hudson (17-9).
Rangers 8, Angels 6
Anaheim, Calif. Alex Rodriguez hit his league-leading 51st home run and Texas scored the tying and go-ahead runs on an error by Anaheim shortstop Benji Gil in the eighth inning.
Doug Davis (11-9) won for the sixth time in seven decisions, allowing six runs and 10 hits in eight innings.
Jeff Zimmerman pitched the ninth for his 27th save in 30 chances.
Shigetoshi Hasegawa (5-6), trying to protect a 6-5 lead for starter Scott Schoeneweis, gave up a leadoff double to pinch-hitter Frank Catalanotto and hit rookie Chris Magruder with an 0-2 pitch.
After a one-out walk to Rodriguez, Gil's error led to the go-ahead runs.
Red Sox 8, Tigers 5
Detroit Scott Hatteberg drove in three runs and Trot Nixon hit a two-run homer off Jose Lima (5-9) as Boston beat Detroit.
Frank Castillo (9-9) got the win for the Red Sox (77-77), who won for just the second time in eight games and got back to .500.
Shane Halter drove in four runs for the Tigers, who had beaten Boston four straight times. Bobby Higginson added four hits.
Blue Jays 6, Devil Rays 5 (12)
St. Petersburg, Fla. Carlos Delgado hit a go-ahead single in the 12th inning off Doug Creek (2-5) and Toronto beat Tampa Bay.
Toronto snapped a four-game losing skid. Tampa Bay failed to win four straight for just the second time this season.
Paul Quantrill (11-2) worked a scoreless 11th for the win. Scott Eyre got three outs for his second save.
Orioles 1, Yankees 1, 15 innings, tie, rain
New York Cal Ripken went 0-for-7 with four strikeouts his poorest showing, statistically, of his 21 years in the major leagues in his final road game before it was called because of rain after 15 innings.
Ripken, who was honored before the game, had never gone 0-for-7 before, and the only other time Ripken had four strikeouts in a game was May 2, 1984, against Cleveland.
Roger Clemens allowed one run and four hits in six innings for New York.
Copyright 2018 The Associated Press. All rights reserved. This material may not be published, broadcast, rewritten or redistributed. We strive to uphold our values for every story published.