KANSAS CITY, KAN. — The tone was set for the incident-prone Protection One 400 early on Sunday.
Just after the first turn of the first lap of the first NASCAR Winston Cup race in Kansas Speedway history, Stacy Compton, Casey Atwood and John Andretti tangled. The wreck ended Atwood's day before it began.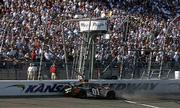 "I should have known from previous racing experience racing with him I wasn't going to get much," Atwood said after appearing to cut in front of Compton. "I really don't think it was my fault."
"I just saw a car spinning," Andretti added. "It was real unfortunate, the first turn of the first race here. I think they were fighting awfully hard out there for something that doesn't really matter in a 400-lap race."
It was the first of 13 caution periods covering 70 of the race's 267 laps. The final caution came out on lap 258, forcing a red flag. All cars stopped dead on the track and, once the track was cleared, ran three laps under yellow before finishing the final six laps under the green clear flag.
"It's a shame, racing today with all the wrecks," said Bobby Labonte, whose day ended with a wreck on lap 246.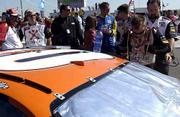 Eleven of the 43 cars that started did not finish.
One of them was driven by Dale Earnhardt Jr., who won last week's race in Dover, Del. Earnhardt had worked his way to fourth place before he blew the right-front tire and hit the wall on lap 228.
"What a great racetrack," Earnhardt said. "My car just drove itself.
"I didn't have to push much at all. My right-front just blew. I thought we were going to get third or something like that."
Jarrett 'fair': With 20 laps to go, Labonte was clipped by Dale Jarrett, and Jarrett spun before crashing his driver's side into the wall. Jarrett was briefly unconscious. He was helped to an ambulance and taken to the Kansas University Medical Center, where he was listed in fair condition. Results of a CT scan were unavailable.
Fireworks: After Jerry Nadeau rear-ended Ward Burton early, forcing Burton and Todd Bodine out of the race with wrecks, Burton stormed onto the track and, as Nadeau tooled by under caution, Burton flung part of his uniform into Nadeau's windshield.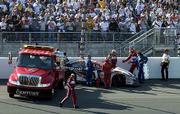 "I just lost my temper a little bit. It's just frustrating," Burton said. "That's the 11th time this season I've gotten the hell knocked out of me."
Childress unveiling: Prior to Sunday's race, Richard Childress of Childress Racing unveiled a new number and paint scheme for the team's 2002 Winston Cup Monte Carlo. The car will be No. 29 and sport GM Goodwrench's familiar black and silver paint scheme. The significance of No. 29? It was the first number available, according to NASCAR. Kevin Harvick will drive the new ride.
Add Childress: Childress also addressed the situation surrounding the No. 3 car, which was driven by the late Dale Earnhardt. "The numbers belong to NASCAR, and NASCAR controls the numbers. It's not their policy to retire numbers, but we're talking to them heavily about retiring the No. 3. If not, we have some plans. We would like to do some things with the No. 3 that we have registered and stylized with Dale Earnhardt that makes it famous. I do understand that we're going to be able to keep it, and nobody else will be able to get it but RCR (Richard Childress Racing)."
Copyright 2018 The Lawrence Journal-World. All rights reserved. This material may not be published, broadcast, rewritten or redistributed. We strive to uphold our values for every story published.