Boston — Two colleges on the cutting edge of Internet technology are now pioneering solutions to a rapidly growing problem: students who pay more attention to their computers than to their professors.
Bentley and Babson colleges were among the first in the nation to wire their classrooms for the Internet. And now they're spending tens of thousands of dollars on software and hardware that lets professors block some Internet access in classrooms with network connections.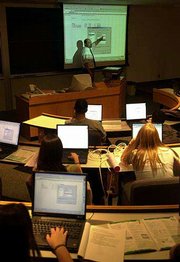 "Faculty members were finding students surfing the Net, sending instant messages, even looking at porn in some of the freshman intro classes," said Phillip Knutel, Bentley's director of academic technology.
As another deterrent, some classrooms at Bentley have technology that allows teachers to capture a student's e-mails or instant messages and display them on a large screen for the whole class to see.
The software doesn't censor which sites a student can visit on the Internet. Instead, a professor can choose whether classes have access to the entire Internet or just the school's internal network. Professors can also block out e-mail and instant messaging.
Babson math professor Joe Aieta said his students have told him the temptation to use the Internet during class is too great when it is at their fingertips. That's why Aieta occasionally limits their access.
"They think they can keep up with the classwork while sending and receiving messages," Aieta said. "But they acknowledged that it didn't always work so well."
Babson freshman Patrick Lehner, 19, said the network-blocking software doesn't bother him that much.
"Are students here happy or proud about it? Probably not," he said. "But there's a good lesson to be learned from it. It might help rebuild people's habits so that they focus more (on class)."
Bentley, which in 1985 became one of the first U.S. colleges to require undergraduates to have computers, first implemented the blocking technology in classrooms in the last academic year. Babson had a primitive version of the software installed three years ago.
Cabletron, a Rochester, N.H.-based company founded by Babson alumnus Craig Benson, developed the original Babson blocking program. Enterasys, a subsidiary of Cabletron, developed Bentley's program and recently upgraded the one at Babson. Both schools were involved in the development.
Lois Brooks, director of the Academic Technology Specialist program at Stanford University, said she doesn't know of any other school that is doing what Babson and Bentley have done.
"I've heard people talk about this, but I haven't heard it go beyond the speculation stage," she said.
Some schools have been trying less sophisticated solutions to the problem.
The University of Virginia has installed switches in its business school classrooms that kill access to computer networks. But the switches aren't well-hidden, and students who know where they are can flip them back on.
So far, no tech-savvy student has been able to crack the software at Bentley or Babson, according to Knutel and Aieta.
Aieta plans to ask his students to try to crack the program in order to test its security, figuring that's what they'd be trying to do anyway.
"If you have denied access, and if the student thinks they can somehow get it back, they will try everything," Aieta said. "They've never seen a button they didn't want to push."
Copyright 2018 The Associated Press. All rights reserved. This material may not be published, broadcast, rewritten or redistributed. We strive to uphold our values for every story published.