San Francisco — Barry Bonds didn't hit his 70th home run and he didn't get any closer to what he says he really wants: a spot in the postseason.
Bonds stayed at 69 home runs and the San Diego Padres beat the San Francisco Giants 5-4 Sunday on Bubba Trammell's seventh-inning solo shot.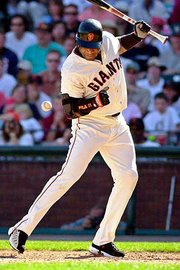 The loss kept the Giants two games back of Arizona in the NL West. The Diamondbacks fell 2-1 to the Dodgers on Sunday.
Bonds wouldn't talk after the game.
He remained one homer away from Mark McGwire's single-season record set three years ago. He had had homered in each of the first two games of the Giants' final series this season with the Padres.
But on Sunday, Bonds grounded out, walked twice and was hit by a pitch from reliever Jose Nunez.
Bonds saw 11 pitches, only one of them a strike. He was left on deck when the game ended.
"You have to pitch to him carefully," said Padres starter Brian Tollberg (9-4), who allowed four runs on seven hits over six innings for the win. "I didn't want to be in the record books, to be honest."
The game drew a sellout crowd of 41,669 and McCovey Cove an inlet of the San Francisco Bay just beyond Pacific Bell Park's right-field wall was jammed with fans in boats, kayaks and on surfboards. All were hoping for that elusive home run from the Giants' left-hander.
The Giants have six games remaining, including three at homer-friendly Enron Field as the Giants head to Houston on Tuesday night.
And Bonds isn't the only one who must wait to make history.
San Diego's Rickey Henderson still needs one more run to reach 2,245, matching Ty Cobb's 73-year-old record. Henderson, who went 0-for-4 with a double-play grounder, is also three shy of his 3,000th career hit.
Cubs 7, Astros 6
Chicago Ricky Gutierrez hit a bases-loaded sacrifice fly in the eighth inning as the Chicago Cubs rallied to beat Houston and send the skidding Astros to their third straight loss. Houston's lead over St. Louis in the NL Central was reduced to one game, the Astros' smallest advantage since Aug. 18.
Cardinals 7, Pirates 3
St. Louis Woody Williams won for the seventh time in eight decisions since joining St. Louis, and Albert Pujols hit a two-run homer as the Cardinals beat the Pittsburgh Pirates.
The Cardinals closed within one game of Houston in the NL Central.
Williams (15-9), acquired from San Diego on Aug. 2 for Ray Lankford, improved to 7-1 with a 2.53 ERA since the trade. He is 5-0 with a 1.10 ERA and three complete games in his past five starts.
Mets 9, Braves 6
Atlanta Edgardo Alfonzo homered twice and sparked a five-run outburst in the eighth inning for the New York Mets, who held on to beat the Atlanta Braves. Mike Piazza had four hits, including his 36th home run, as New York climbed within four games of the Braves in the NL East.
Rockies 10, Brewers 0
Denver John Thomson pitched Colorado's second complete-game shutout at Coors Field this year and also had three hits.
Thomson (3-5) gave up five hits and struck out nine.
Todd Helton became the first player in big league history to have 100 extra-base hits in consecutive seasons. He reached the mark with a double in the Rockies' third.
Reds 5, Expos 4
Cincinnati Dmitri Young and Adam Dunn hit eighth-inning homers off Joey Eischen. Vladimir Guerrero had three hits, including a pair of doubles off Joey Hamilton, as the Expos took a 4-2 lead ins.
Dodgers 2, D-backs 1
Phoenix Shawn Green tripled, doubled and scored the go-ahead run in the ninth inning.
Marlins 8, Phillies 3
Miami Josh Beckett earned his second career win and prevented the Philadelphia Phillies from closing ground on Atlanta in the NL East. The Phillies remained two games behind the Braves in the NL East heading into their three-game showdown in Atlanta starting Tuesday.
Copyright 2018 The Associated Press. All rights reserved. This material may not be published, broadcast, rewritten or redistributed. We strive to uphold our values for every story published.