Besides traditional Christmas shades of red and green, patriotic red, white and blue are expected to dominate Saturday's annual downtown Christmas parade that starts at 11 a.m. on Massachusetts Street.
"We have a real quality parade this year," said Rob Phillips, founder of the Eldridge Hotel Old Fashioned Christmas Parade. "Because of what happened in September, it has a strong patriotic twist. There will be a lot of Stars and Stripes and lots of bells and red and green."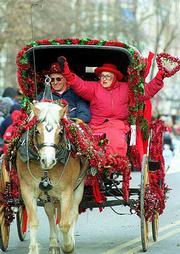 He said several of the 124 entries plan to have their vehicles and horses adorned with patriotic colors or carry flags.
The growing interest also could make this year's parade the biggest since its inception nine years ago, if the weather cooperates.
For the first time, Emporia is bringing its city horse-drawn fire vehicle from the late 1800s, and people will be dressed in period clothing.
Stan Zaremba, Lawrence, will be riding in the parade with 23 fellow members of the Saddle and Sirloin Club of Kansas City, Mo.
Viewing hours for gingerbread creations will be 9 a.m. to 6 p.m. Saturday, noon to 6 p.m. Sunday and 10 a.m. to 6 p.m. Monday through Wednesday, concluding with the 7 p.m. auction Wednesday, all at the Eldridge Hotel. The festival is a fund-raiser for Big Brothers/Big Sisters of Douglas County.
The Commanding General's Mounted Color Guard from Fort Riley will lead the parade, and Phillips will be at the tail end in his white carriage with Santa.
Last year, the future of the parade was in doubt because of ever-increasing costs associated with it. But local businesses and private contributors stepped in to donate money and did so again this year.
The parade also coincides with the annual Gingerbread Festival, a fund-raiser for Big Brothers/Big Sisters of Douglas County. The event takes place at the Eldridge Hotel.
Copyright 2018 The Lawrence Journal-World. All rights reserved. This material may not be published, broadcast, rewritten or redistributed. We strive to uphold our values for every story published.