It's easy to imagine the bizarre spectacle that must be going on backstage each night during the Weezer/Tenacious D tour. By placing Rivers Cuomo, the reclusive Harvard-educated frontman of Weezer, into a confined setting with raucous movie star Jack Black ("Shallow Hal"), who pilots the pudgy comedic pair Tenacious D, things are bound to get a tad loopy.
The members of Jimmy Eat World don't have to picture this scenario, because they've actually been living it for the past few weeks while on a triple-bill alongside those lively bands. But as often happens when the rock world converges with Hollywood, things aren't always what they seem.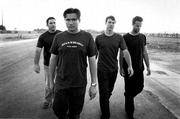 "It's been pretty mellow backstage, actually," says Jimmy Eat World singer/guitarist Jim Adkins. "It's a weird thing: It's fun all the time, but I can't say that there's any rowdy sort of highlights that have gone down.
"For us, the tour is easy, it's cool, it's a whole lot of fun and the crowds are huge," he adds. "You can tell there are pockets of the crowd that have heard us before, but the majority haven't. But we're getting feedback from the audience, and it's good because we're winning on the exposure ratio."
Considering the Mesa, Ariz.-based Jimmy Eat World hasn't enjoyed significant airplay or record sales during its eight-year stint together, a sold-out tour with a pair of legitimate headliners is crucial to its career livelihood.
"I think the Weezer people just came up with the idea," Adkins says while lounging with his other bandmates before a show in Long Beach, Calif. "They wanted to get us and the D. Is that how it went down Zach?
What: Jimmy Eat World, Weezer, Tenacious DWhen: 8 p.m. FridayWhere: Municipal Auditorium, 13th and Wyandotte streets, Kansas City, Mo.Ticket information: (816) 931-3330
In the background, drummer Zach Lind blurts out, "Rivers called me begging for us."
Adkins laughs, prompting Lind to continue: "At first he just wanted me to do a drum solo, but I convinced him to take the rest of us."
It's no surprise that Adkins and Lind (along with guitarist Tom Linton and bassist Rick Burch) are in a joking mood, since they are positioned to play before Tenacious D, a duo that is regarded as one of the most hilarious to ever strap on acoustic guitars.
"I feel it's gotta be weird going on AFTER the D," the singer says. "They're kind of more of a comedy act than a musical act, but they definitely have the musical chops to back it up. It's funny, but at the same time no one can deny they have good songs. We play the straight man before the D."
So Jimmy Eat World is kind of functioning like Bud Abbott of Abbott & Costello or Dean Martin of Martin & Lewis.
"No," he says. "We're more like Teller of Penn & Teller."
Under pressure
As high profile as these traveling stadium gigs in support of the new album "Bleed American" are for the quartet, Jimmy Eat World's most infamous appearance was only witnessed by a few hundred people.
When Blink-182 frontman Tom DeLonge got married last summer, Adkins and crew were invited to play the multi-platinum artist's reception. Apparently, DeLonge's fiancbooked Jimmy Eat World as a surprise after learning that it was the star's favorite band.
"It was weird," Adkins says of the matrimonial festivities. "It was definitely not our normal gig. It was a nice wedding. It was open bar. (laughs) I paid for it the next day, kind of like any other wedding."
Since he had never before been asked to render the duties of a wedding singer, Adkins claims it presented him with a new type of performance pressure.
"It was not so much the video taping and things like that, but it was all the families that I was worried about," he says.
The rigors of the rock lifestyle have led to other worries for Adkins, who began to battle an anxiety disorder during a tour two years ago. The panic attacks would often occur at the most innocuous of moments, but would leave Adkins reeling from sensations of heart palpitations and hyperventilation.
"It's more like a kind of stress like body stress," he explains. "It's never a social thing, like being up onstage singing."
The singer has been able to keep the attacks in check through medication a subject that has found its way onto "Bleed American." (The opening lines of the title track state: "I'm not alone because the TV's on/I'm not crazy because I take the right pills every day.")
"Every once in a while I'll feel kind of sketchy that's the best way I can describe it," he says. "But I've learned to deal with it and make it go away."
Schoolhouse rock
Adkins and Lind have actually been buddies since preschool, and began to first collaborate musically by pounding out Metallica covers when in junior high. During their senior year, the pair joined with Linton and original bassist Mitch Porter to form Jimmy Eat World.
"It hasn't changed a whole lot," Adkins says of the relationships within the group. "We all get along really well. Arguments are more about where to eat than something major. We all realize that we're lucky ... Everything else is pretty petty when you take into account just what it is exactly we're getting away with here."
After establishing a local following through some split-singles and an indie debut album, Jimmy Eat World signed to Capitol Records, releasing "Static Prevails" in 1996 and the follow-up "Clarity" in '99. While this allowed Adkins to finally quit his job selling art supplies and tour the country, things didn't quite work out with the label, and the act was dropped when "Clarity" failed to catch fire.
New interest began to occur stateside after word spread of Jimmy Eat World's success in overseas markets. DreamWorks picked up Jimmy and issued "Bleed American" last July, resulting in a studio offering that was both compellingly fresh and extremely accessible. Punk-pop melodies and punishing guitar grooves revealed a band that could combine youthful liveliness with veteran compositional skills.
"We've always just kind of showed up and played, and that's been what people get from us," Adkins says of his band's strategy. "Making records is important as well, (but touring) is definitely the main way we've gone about introducing people to us. We sure seem to be doing a lot more of it lately."
Perhaps a nice celebrity wedding will come along to help calm things down.
Copyright 2018 The Lawrence Journal-World. All rights reserved. This material may not be published, broadcast, rewritten or redistributed. We strive to uphold our values for every story published.