It's relatively quiet in Lenexa for a Saturday night. Of course, I am on a secluded back road. I pull my car up to the Amos Family Funeral Home. Surely I'm not in the right place, but there's a ton of vehicles parked here, as if someone really important died.
I get out of my car and look down the hill. An older limousine is stationed in front of a building behind the funeral home. That's when I hear it: a slamming sound, like a speeding SUV just crashed into a brick wall. Another moment of silence, and another SUV wrecks. I'm in the right place.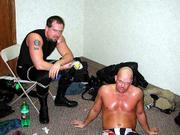 I'm 200 yards outside the building, but I've already had my first taste of Central States Wrestling. CSW for short, it's like WWF wrestling, but a more home-cooked version. I enter the building, and am greeted by a woman sitting at a table. She says something indistinguishable. Too much screaming in the building to hear what she wants, but I assume it's money. An occasional wrestler smashes into the mat. Not quite acclimated to my environment, I still jerk at every body slam, like I'm expecting that car wreck to spill over into my lane.
A referee jumps in, shouts something at the woman, then gestures to us that we don't need to pay, we're guests of Michael Strider. He then points over to a side door, where a menacing man is peering in my direction. This is my first meeting with Strider. The wrestler shakes my hand. We're a little late, and he already has a full sweat working.
"Did we miss your match?" I ask.
"No, I wrestle last. We got some seats for you guys over there at ringside; grab a seat and enjoy the show."
I ask my buddy James Starkweather, a big fan of the league, why would Strider look like he already wrestled 12 matches?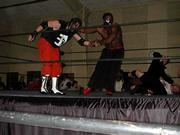 "I don't know," he says. "But I've never seen him like that. He had a seriously crazy look in his eye."
Meet Michael Strider. Dressed in all black, he's the most hated man in the CSW. Fans scream and taunt him, shouting things they'd never dream of saying if they were in a dark alley alone with the man. He yells back, arms flailing, head turning bright red with the sudden rush of blood. In such a small venue, every word is heard, especially the colorful ones. He takes his opponent, lifts him above his head, and drops him on the concrete floor. Not the mat, which might bounce back, but the floor. He has his own Web site (www.michaelstrider.com) that proudly proclaims he's been "serving your ass kickin' needs since 1997."
Meet Justin Appleberry. Dressed in business casual, he's one of the more important people at Cottonwood Inc. He's the residential coordinator there, managing the lives of mentally handicapped people. Not an easy job, but neither is his night gig. Because, you see, his night gig is being the most hated man in CSW: Michael Strider.
Folding chairs and kegs
Appleberry got his start in wrestling after he and a friend were driving through St. Joseph, Mo., and heard of a minor league wrestling event that evening. The next month, Appleberry was training to be in the league.
"It was a real cracker-jack organization," Appleberry says. "They ran this league in the back of a snake shack. The ring was like a wood deck with ropes around it. It was as small as this room. No one knew what they were doing, and I tore my ACL while I was there. After reconstructive surgery, I joined up with Central States Wrestling. These guys are good, they're pros, they know what they're doing."
"Hey, Thanatos," Appleberry/Strider shouts. "Will you grab these guys one of those folding chairs and a Miller Lite?"
With these folks, folding chairs are used for one of two purposes: To beat people with and to sit down on in that order. Lucky me, the chair is offered only as a seat.
They have to know what they're doing, because otherwise they can get seriously hurt. Sitting 10 feet from the action, I can tell you that many of the punches aren't pulled. And I can confirm there's no way to fake getting thrown from the ring into a metal cattle fence. Blood is only spilled once, when a wrestler leaps from the top rope onto a wrestler walking on the floor level. The opponent that is on the receiving end savors a bloody nose.
But that isn't the most painful thing that happens. In the hardcore match, the one where anything goes, a wrestler gets squished. It's just plain wrong in a good way. The two combatants take the action into the crowd. One is stomped on until he is no longer moving. Then the wrestler who is winning disappears into the concession stand. When he comes back out, he hoists a full keg above his head. He holds it roughly five feet over his opponent, and when his opponent raises his hands, he tosses the keg on top of him. An attempt is made to catch it, but the container is too heavy. The keg falls into the beaten wrestler's chest, and the noise he makes is a mix of a gurgle and a groan. All 200 people in attendance cringe.
Spreading the word
Mark Ptasnik is a fifth-year senior at Kansas University in exercise science. But on this evening, he's "Thanatos," face painted and hair sprayed silver. He's described as dark and mysterious, a character that hates everything, including himself. Thanatos must hate himself, after the beating he just put himself through.
Strider and Thanatos lift weights together daily and carpool twice a week to St. Joseph, Mo., to work out with the other wrestlers of CSW. They're planning on setting up an event in Lawrence in February, once they find the proper venue some place that can hold roughly 200 people but with tall enough ceilings that they can jump off the top rope and not bang their head.
"Once we get the date and place, I'm telling everyone," Ptasnik says. "I'm going to write it in chalk all over campus, I'm going to tell everyone in all my classes that they have to come out and see us."
However, he won't be telling his customers at Perkins, where he waits tables. "It's a family restaurant, and they might think I'm weird," he says.
Scant minutes after the matches are over, sworn enemies are now sharing the same locker room. The three most common things spotted besides wrestlers are ice bags, Miller Lite cans and trays of face paint.
"I don't hurt so bad now," Appleberry says, with a bag of ice applied to his elbow. "But tomorrow it'll feel like I've been in a train wreck. I've been beaten up so badly that I've gone home and slept in my bathtub full of ice. I've had difficulties driving my car after matches. I've had my kidneys bruised so bad I couldn't lift weights, and I lost 15 pounds. I feel good now, except for my elbow."
In a conversation with Thanatos, I learn that Strider will have his elbow scoped after this match. He had some bone chips left in there after he was body slammed through a table in September.
Appleberry hopes to one day be a full-time wrestler. That doesn't mean he wants to go to the WWF. In fact, he'd rather wrestle professionally in Japan, where the sport is smarter, he says. Ptasnik just wants to learn to be the best technical wrestler he can be, and provide a positive release for people who watch his matches.
For now, they're enjoying their regional wrestling. They have upcoming events in both Atchison and Joplin, Mo.
"I'll put our product up against the WWF in a heartbeat," Appleberry says.
"It's $8 a seat here, every seat in the house is up-close, and all our wrestlers give it up for the fans. At WWF, you pay 10 times that for your tickets, and you're sitting in the upper deck."
He's right about being close. At one point, Strider is thrown into the corner nearest Starkweather and I. We scream and taunt him. He glares, and then spits at us. A giant hocker is the only way to describe it. Yeah, it's meant for us, but it hits the 16-year-old kid seated next to Stark. The kid turns green looking at the yellow lugey on his shirt, and quickly wipes it off onto a chair.
"Yeah, I'll do that occasionally," Appleberry tells Starkweather. "It really gets the crowd fired up."
Copyright 2018 The Lawrence Journal-World. All rights reserved. This material may not be published, broadcast, rewritten or redistributed. We strive to uphold our values for every story published.