It's relatively easy to explain the plot twists in the Unicorn Theatre's new production of "Fuddy Meers." The play is a lot like the movie "Memento," if that movie had been filmed by a cast and crew who were constantly chewing on hallucinogenic mushrooms.
In "Memento" a man suffers from a strange form of amnesia; when he goes to sleep each night, he forgets everything he learned that day, which makes it extremely hard for him to solve his wife's murder. "Fuddy Meers," on the other hand, is a zany, freaky farce in which the lead heroine has the same form of amnesia. Each day her husband helps her remember past events, and away she goes to start her new day. Then one day it all gets turned upside down with the arrival of a stranger.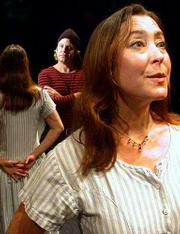 That sounds plausible, so far.
"I've heard it compared to 'Memento,' says director Joseph Price. "It's similar in that the lead character can't remember who she is. In the process of the play, she has to put the pieces of the puzzle together to find out who she is. It's a different style, with farcical and absurdist elements in the piece. But it is similar in their desire to form connections to memory."
That's really the straight, public relations version of the story. But "Fuddy Meers" gets really weird from then on out. How weird? Well, the closest Price can come to describing the play is by drawing on another movie analogy.
"I read in an article that it was something the Farrelly brothers ("There's Something About Mary," "Shallow Hal") might do onstage," he says.
So if an audience member has any desire to see a play about common sense and the status quo, then better to go somewhere else, because "Fuddy Meers" really has something to offend about anyone who might lean towards political correctness.
What: 'Fuddy Meers' by David Lindsay-AbaireWhen: Friday through Dec. 30Where: Unicorn Theatre, 3828 Main St., Kansas City, Mo.Ticket information: (816) 531-7529 ext. 10
Mixed messages
"Fuddy's" lead character, Claire (played by Melinda McCrary), has her routine altered when a man hiding under her bed presents himself as her brother, there to save her from danger. At least that what she thinks it's all about. He's hard to figure out, since he limps, lisps and is half-blind and half-deaf while hiding his face under a ski mask. The two of them travel to her mother's home, but mom can't help out to much, though, since she's a stroke victim who's speech has been reduced to gibberish.
Eventually Claire's husband arrives, dragging along their incredibly stoned-out-of-his-mind-son, and a police officer they kidnapped along the way. And then there is the dimwitted prison escapee who shows up, and speaks to the group through his foul-mouthed hand puppet.
The plot, obviously, revolves around the conceit that for Claire to overcome her amnesia, she'll have to do it by interacting with people who can't communicate in a normal manner. (The title stems from one of the characters being unable to pronounce "funny mirrors.")
It's all created from the warped mind of playwright David Lindsay-Abaire, who has been something of a literary tornado on the East Coast, tearing up the theatre scene with plays like "A Devil Inside," "Dotting and Dashing" and "How We Talk in South Boston." Actors and critics, alike, either love him or hate him as being too mean-spirited. One of his staunchest supporters is "Sex and the City" actress Sarah Jessica Parker, who is currently appearing in his play "Wonder of the World" in New York.
But just like those Farrelly brothers, who do manage to slip some sort of message in among the fat folds in "Shallow Hal," the playwright's supporters say that while Lindsay-Abaire's work is no drawing-room comedy, it does possess a heart and soul.
"There's no doubt about it: It is not a politically correct play," Price says. "It is about the huge lack of communication between people. And the additions in this play, like having people lisp or be a stroke victim, heighten that idea. It makes it more difficult for Claire to solve the puzzle of her life, but without it (the handicaps), it would be less interesting."
Price's main concern is not about offending the audience, since anyone who might be outraged probably won't show up for this one, anyway. His worry is nailing the comic timing something essential to any good farce while helping the audience to understand some characters who practically need translators to figure out.
"It's organized chaos. It's a very physical play, with farcical qualities that demand a certain amount of precision," Price says. "There are moments that need clarity; a moment for the audience to understand, a framing moment to make sure the audience gets it."
Copyright 2018 The Lawrence Journal-World. All rights reserved. This material may not be published, broadcast, rewritten or redistributed. We strive to uphold our values for every story published.