Every week, 2-year-old George Brown receives physical and speech therapy to help him gain skills lacking because he was born with a neurological disorder.
Brown, diagnosed with lissencephaly when he was 6 months old, is one of more than 125 children served annually by the Douglas County Infant-Toddler Coordinating Council.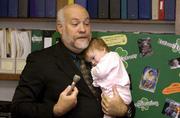 "We pretty much look at ICC as saving his life," said Brown's mother, Meg, while sitting next to her husband, Jody. "He's had a real hard time eating, and his team helped find inventive ways to help him."
The council evaluates and provides 16 different services to young children with special needs. The council, established in 1992, also offers free screenings to children up to 3 years old.
Next year, the council will receive some financial assistance thanks to the Lawrence St. Patrick's Day Parade Committee. Several committee representatives gathered Wednesday to announce the council has been selected as the 2002 parade beneficiary.
This year, the Lawrence St. Patrick's Day group raised nearly $20,000 through various efforts, including an auction. The proceeds were donated to the Ballard Community Center for playground equipment. Since 1988, the committee has raised about $150,000 for local children's charities.
"(ICC) is such a wonderful group, but for me it was a very eye-opening experience," said Phil Bradley, the 2002 St. Patrick's Day committee chairperson.
Dena Bracciano, the council's coordinator, said the money will help the nonprofit organization meet increasing demands for services. So far this year, she said, the council has served 130 children compared to 118 during all of 2000.
"Our funding has not been as adequate as we'd like," she said. "The St. Patrick's Day Parade funding really came at a perfect time for us."
Fund-raising efforts will kick into high gear in January, and several events are planned for March. Bradley said a cycling race is the newest addition to the list of events, which includes the annual downtown parade on St. Patrick's Day.
Other activities include:
Benefit Concert: March 1, 2002 (tentative).
Auction: March 2, 2002.
Dart tourney, Shamrock Shuffle and Paddy's Peddle: March 9, 2002.
Queen coronation: March 10, 2002.
The annual parade will begin at 1 p.m. March 17 at South Park. For more information or to get involved with the parade, call Bradley at 766-7492 or e-mail at lawstpats @aol.com.
Copyright 2018 The Lawrence Journal-World. All rights reserved. This material may not be published, broadcast, rewritten or redistributed. We strive to uphold our values for every story published.