LINCOLN, NEB. — There was very little dispute in the voting for the Associated Press Big 12 offensive player of the year award.
Nebraska quarterback Eric Crouch ran away with it.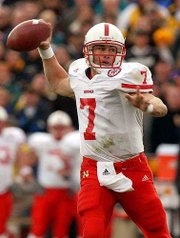 "I think it's very appropriate. I think it's right," Nebraska coach Frank Solich said. "If you watch him play, game after game I think you've got to come away with that feeling that he's as good as it gets."
Apparently 19 of 20 Big 12 sports reporters agreed. Crouch received all but one of the votes as the league's top offensive player in balloting released Wednesday. Texas Tech quarterback Kliff Kingsbury received the other.
The defensive voting was just as one-sided, with Oklahoma strong safety Roy Williams getting all but one vote. Teammate Rocky Calmus, last year's winner, received the other.
The newcomers of the year are Iowa State quarterback Seneca Wallace and Oklahoma defensive tackle Tommie Harris.
The award was the latest of many honors for Crouch, who holds the NCAA Div. I record for rushing touchdowns by a quarterback with 59. Crouch is also a finalist for the Davey O'Brien award, which goes to the nation's top quarterback, and is expected to be a finalist for the Heisman Trophy.
Crouch is Nebraska's all-time offensive leader with 5,510 yards.
"I've said a lot of times I've surprised myself with the team and national records I've broken," Crouch said. "Those things are all great and I'm just proud to be part of the great history of college football."
It's also something Crouch would feel a whole lot more comfortable celebrating if he and the No. 6 Cornhuskers were preparing for Saturday's Big 12 championship game. Instead, they'll be watching Colorado play Texas.
The Buffaloes knocked the Huskers out of the title game and likely out of the national championship race with a 62-36 blowout last week.
Crouch set a school record for total offense with 162 rushing yards in that game, with two touchdowns and 198 more yards passing, but it wasn't close to enough to topple the Buffaloes.
"I would say it's kind of a hollow feeling, but I'm not dwelling on the loss at all," Crouch said. "Yeah, I'm disappointed, but I've moved on. That's just part of the game. You've got to move on, and face the next challenge."
Crouch said he won't reflect on his accomplishments until after the season. When he does, there will be plenty to look at.
This season alone, he is second on the Huskers in rushing with 1,115 yards his first 1,000-yard season and leads the team with 18 rushing touchdowns. He has completed nearly 56 percent of his passes (105-of-189) for 1,510 yards also a career high with seven passing touchdowns. He has 10 interceptions, including two against the Buffaloes.
Crouch also was named offensive player of the year by the Big 12 coaches. He and Texas QB Major Applewhite were named co-winners of that award two years ago.
This year, it's undisputed, but Crouch isn't thinking about that yet.
"Maybe when it's all over with things will come to mind again," Crouch said. "I'm sure after all the awards are over with and whoever has received what they're going to receive, I'm going to be fine and OK with everything."
Williams, a 6-foot-1, 220-pound junior, finished the season with 99 tackles, including 11 for a loss, five interceptions, two sacks, three fumble recoveries and 27 pass deflections.
Sooners coach Bob Stoops says Williams is the best defensive player he has coached or been around.
"You put him on the field and he almost takes away one side of the field," Stoops said. "You blitz him and he's going to tip the ball either to someone else for an interception or to himself. You throw a screen out that way, he's going to make the tackle. You throw it downfield, he's a great cover guy. He does it all."
Harris, a true freshman, finished with 32 tackles and two sacks despite consistently getting double-teamed.
Wallace, a junior college transfer, threw for 2,044 yards and 11 touchdowns in leading the Cyclones to a 7-4 season and their second straight bowl berth, something Iowa State hasn't done since 1977 and '78.
Copyright 2018 The Associated Press. All rights reserved. This material may not be published, broadcast, rewritten or redistributed. We strive to uphold our values for every story published.