Wayne Simien won't make his regular-season debut in Saturday's big nonconference basketball battle at Arizona.
Simien, Kansas University's 6-foot-9 freshman forward from Leavenworth, had arthroscopic left knee surgery on Nov. 15. He says he'll continue to run noncontact drills at practice today and Friday, then try to go through contact work Sunday and Monday in preparation for Tuesday's game against Wake Forest at Allen Fieldhouse.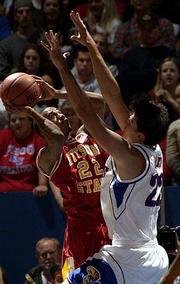 "It feels pretty good. The doctors decided they don't think it's ready for Arizona," Simien said after watching KU's 105-62 victory over Pittsburg State in street clothes.
"I'm going to keep working as hard as I have been and get it ready as soon as possible. Coach wants two hard practices before I get in a game."
Simien made the decision after conferring with team doctors, his parents and KU coach Roy Williams after Wednesday's game.
"The doctors and surgeon and everybody put their heads together and decided it's not ready," Simien said. "It's definitely a big disappointment. It's a huge game. I definitely want to play.
"I was in on this decision," he added. "I don't want to set myself any farther back than it is. I want to be ready in March. It's a long season."

Phantom foul: KU senior forward/center Jeff Carey was tooted for his fifth foul with 6:48 left. One problem, everybody in the arena saw a hard foul on Pitt State's Jai Pradia was committed by Drew Gooden.
Williams and Pitt State coach Gene Iba held a discussion near midcourt after the officials heard Williams' plea for a correct call to be made.
"The foul was on Drew. They called it on Jeff Carey. I was trying to tell them they had the wrong guy. I told Gene, 'The foul really was on No. 0 (Gooden) instead of 22 (Carey).' He said, 'I'd rather it be on Zero.' I told him I can understand that. At that point he said something about something else. There was no animosity whatsover.
"He's a good friend and good coach. We were discussing a couple other things you are not supposed to discuss in the media. If you can't figure that out " Williams added, his voice trailing off.
Hmmm coaches can't talk about officiating with media members, so it's a guess that's what the two were talking about.

Ouch: KU forward Nick Collison left the game early after he appeared to hurt his left shoulder. He rubbed the shoulder and stretched it a bit, then returned.
"I don't know what it is," Collison said. "Ever since high school it'll jerk and get sore. It's not a separation or anything. It's OK. At times it just gets sore."

Fingernail scratch: Carey had to leave for the locker room in the first half for a spell.
What happened?
"One of their guys hit me with a fingernail. He didn't hit me hard, but his fingernail was sharp. I got a nice little slice on my nose. They put medical glue on there and I came back," said Carey, who was bloodied.
In other words, no stitches for Carey, who scored eight points with five boards in 18 minutes.

Juices not flowing: Collison scored 10 points and had five boards in 18 foul-plagued minutes. He fouled out with 10:49 left.
"I guess honestly the juices you don't get as fired up, you don't get as quick of movements playing against certain teams," Collison said. "It's bad for me to not be as focused as I should be, not sliding the feet. I got caught several times. I need to focus on what I'm doing and make an effort not to foul. I need to be ready every game."

Stats, facts: Pitt State earned $25,000 guarantee money. Jeff Boschee's four steals in the first half were most by a KU player since Collison had four versus DePaul on Dec. 12, 2000. Boschee set a career high with five steals. Keith Langford had a career best five assists. Carey tied his career high with eight points. He had eight against Texas A&M; on Jan. 2, 1999. Gooden tied a career mark with 12 field goals made (in 20 tries). He had 12 field goals versus Ball State. Pitt State's 30 turnovers were most by a KU foe since Fairfield's 30 turnovers on Nov. 19, 1999. KU scored 100 points for the first time since scoring 100 on A&M; on Jan. 20, 2001. KU is 3-1 for the first time since the 1990-91 season. The Jayhawks have won 29 straight home openers. Williams is 14-0 in home openers. KU is 4-0 against Pittsburg State and 49-6 all-time against in-state NCAA Div. II schools. Williams is 11-0 against in-state Div. II schools and 20-0 against all Div. II teams in his career. KU is 55-6 all-time against Div. II schools.
Copyright 2018 The Lawrence Journal-World. All rights reserved. This material may not be published, broadcast, rewritten or redistributed. We strive to uphold our values for every story published.