Don't let the 40,000-pound, 40-foot, eight-wheel, 500-horsepower metal behemoth fool you.
"It's not a bus," owner Jeff Shmalberg said, climbing aboard his new converted motorcoach. "It's a limousine."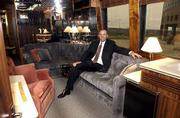 Shmalberg, a Lawrence-based property developer, is the driving force behind StarCoach Limousine Inc., a company created to carry up to 14 passengers across town or to all edges of the country.
The vehicle rents for $120 an hour for a two-hour minimum, or $2 a mile for longer trips. It is designed to accommodate bachelor and bachelorette parties, corporate tours, family ski trips, airport connections or anything else that calls for a ride in comfort and style.
Joe Baker, a Lawrence insurance executive, is preparing to join seven of his buddies next week for a StarCoach trip to Hutchinson. Their ultimate destination: Prairie Dunes, the challenging golf course that will play host to the 2002 U.S. Women's Open.
On the way they'll be able to relax in each of the vehicle's three lounges, take advantage of four televisions tuned to 117 channels, and play games of gin rummy without having to worry about keeping an eye on the road.
The coach also has a full bathroom, shower, icemaker, refrigerator, VCR and trash compactor.
"It's not something you would do all the time, but it's affordable when you're able to split it up like we're doing it," Baker said.
Shmalberg said he paid $150,000 for the 1985 Prevost motorcoach, originally outfitted in Nashville for country singer T.G. Sheppard. Shmalberg upgraded the coach's equipment and other systems, then set out to hit the road.
As a business venture, Shmalberg admits that he isn't steering toward a profit.
All he wants to do is defray the costs on holding onto such a massive vehicle, which he intends to use for family trips and participation in the Angel Bus Inc. program, which lines up free-of-charge transportation for children in need.
Shmalberg already has driven a baby, doctor and nurse from Overland Park Regional Medical Center to the baby's mother in Sioux City, Iowa. The baby had been injured in a car crash in southern Kansas, but insurance wouldn't cover a nonemergency ambulance ride home to Iowa.
"The gain is it just makes you feel good to be able to help people out, especially in a situation like that," Shmalberg said.
Shmalberg figures that he can cover most of his basic costs fuel, insurance, maintenance, hiring contract drivers by lining up four or five paying trips a month.
Marc Dorsett, a friend of Shmalberg's, sees success down the road. Dorsett owned and operated his own business, called American Plains Coach Lines, for 16 years in Topeka, and has seen what works.
StarCoach, he said, does.
"Our market is not just Lawrence it's virtually the entire Midwest," Dorsett said. "There's no other operator that runs this type of vehicle.
"This separates us from the crowd."
Copyright 2018 The Lawrence Journal-World. All rights reserved. This material may not be published, broadcast, rewritten or redistributed. We strive to uphold our values for every story published.