Peter Gogol knows Allen Fieldhouse is a difficult place for Kansas University basketball opponents to play. But he wants to make it tougher.
"As cheesy as it sounds, I want to make Allen Fieldhouse all that it can be and make it as intense an environment as it can be for opposing teams by bringing some of the rowdier fans the students closer to the players," he said.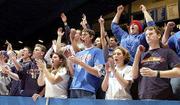 Gogol, a sophomore, is one of eight KU students lobbying the KU Athletics Corporation for better student seating at men's basketball games.
Now, students sit at the ends of the stadium, behind the baskets. The student group would like seating behind players' benches on the west side and closer to the floor around the court.
The group met Tuesday with KUAC representatives. Richard Konzem, associate athletics director, said officials are willing to consider the plan.
"I know we have a system in place that works very well and has worked well for a long period of time," he said. "We're always open to new ideas and change. We know Allen Fieldhouse is one of the best buildings in which to play college basketball. USA Today calls this place and this program 'a tradition second to none.' If we can make it better, that's great."
The students began researching the proposal in February. They gathered newspaper clippings, seating charts from other universities and KUAC budget information.
Senior Matt Dwyer, who spearheaded the effort, said the group found that students were concerned about basketball seating as early as 1986.
"There's been a history of concerns from students about seating at Allen Fieldhouse," he said. "Often students don't take the steps to get things on the table to get them discussed."
The students said they were happy with their meeting Tuesday. But they said they realize other groups including season-ticket holders would be affected by the change.
"There's a lot of people this issue affects," sophomore Chris Cardwell said. "The alumni have a vested interest in the issue, as do faculty and people who come for GA admission."
Konzem said KUAC representatives will turn their attention to the issue once a new football coach is hired. He said changing the seating plan would be a complex issue.
"If you move students into those areas, then the dominoes start to fall, and you've got to relocate those people to other seats," he said. "Not everybody can sit at mid-court 10 rows up."
Copyright 2018 The Lawrence Journal-World. All rights reserved. This material may not be published, broadcast, rewritten or redistributed. We strive to uphold our values for every story published.