Motorists slid on ice-coated highways in Texas and Oklahoma on Wednesday, and homeless shelters had trouble keeping up with demand for warm clothing as the southern Plains got its first snowstorm of the season.
The storm was blamed for hundreds of traffic accidents, with five fatalities in Texas and two in Oklahoma. One day earlier, the upper Midwest was surprised by a storm that produced up to 29 inches of snow and was blamed for five deaths.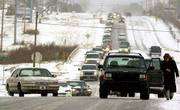 Nine inches of snow had fallen by afternoon at Aspermont, Tex., about 100 miles northwest of Abilene, and Lubbock and Wichita Falls both reported several inches. Ice coated bridges in other cities in the Panhandle and west Texas.
Two to 3 inches of snow accumulated in Oklahoma, where many schools closed, nonessential state employees were told to go home two hours early and churches called off evening services.
After temperatures in the 60s and 70s last weekend, Wednesday's early afternoon temperature was only 22 in Oklahoma City, where Criston Sells, a carhop for Coit's Root-Beer Drive In, bundled up in two jackets and a hooded sweat shirt as she carried burgers and hot dogs to customers.
"That wind just goes right through me," she said.
Homeless shelters and agencies that provide clothes and food were busier than usual. The Hope Center in Edmond, Okla., was running out of warm clothing, said assistant director Liese Canfield.
There were minor delays at Will Rogers World Airport in Oklahoma City while crews de-iced planes and plowed runways. Tulsa International Airport, which had about 1 inch of snow by early afternoon, was running smoothly.
The upper Midwest got a break Wednesday from the heavy snow that closed schools the day before from Nebraska to Michigan's Upper Peninsula, although some schools in Minnesota and Wisconsin stayed closed Wednesday.
Copyright 2017 The Associated Press. All rights reserved. This material may not be published, broadcast, rewritten or redistributed. We strive to uphold our values for every story published.