Whether they're on the court, field or track, high school athletes burn a lot of fuel.
Teen-agers often rely on convenience foods such as hamburgers and french fries, but athletes need to eat the right kinds of food to perform their best. Eating right also can be complicated by the long hours teen athletes spend away from home at practice perfecting their kicks, strokes and passes.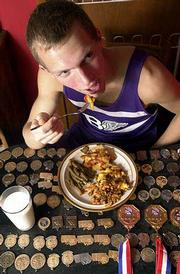 However, teen athletes quickly learn what works for them and what doesn't. Several area high school athletes said they may load up on foods that contain a lot of carbohydrates or protein, depending on the demands of the sport. Also, teen athletes said they often cut out caffeinated drinks because they are dehydrating.
"The best thing I tell them that they can do is drink lots of water, and stay away from pop," said Darrell Andrew, head wrestling coach at Free State High School.
Ian B a Free State wrestler, heeds his coach's advice. Bs menu at home includes a lot of grilled or broiled chicken breasts seasoned with lemon juice.
"I'll also eat four to five or six smaller meals a day because that increases your metabolism and helps you lose weight," he said.
On the road, Busually brings some deli sandwich meat, such as roast beef, and rolls to make sandwiches.
"I make sure I always have something in my stomach before a tournament," he said.
Matt Noonan, a Baldwin High School senior and seasoned cross country runner, said he's not very picky when it comes to food, but he does try to eliminate caffeinated drinks and excess sugar from his diet. His main regimen consists of consuming about 4,000 calories a day.
"The main thing for any athlete is to eat quite a bit of food because you burn a lot of calories," he said.
Noonan said he never passes up a good meal. One of his favorite dishes is a traditional hamburger-and-potato casserole that his mom makes.
"It's real simple, and he really likes it," Marilyn Noonan said.
Some of Matt's other favorite dishes include homemade goulash, a chicken-and-rice casserole and anything with pasta.
"We do a lot of easy recipes," Marilyn Noonan said.
Sometimes students and their families don't even use recipes. They just mix a little of this and that together to make a healthy meal.
Jayme Lisher, a Free State senior, said she often stir-fries vegetables and grilled chicken with a fat-free mesquite barbecue seasoning. She serves the mixture over rice for carbohydrates or beans for protein.
"That's good for an energy meal," she said. "You just want to make sure you get the right amount of food groups so you don't get too much of any one thing."
Lisher is a volleyball and basketball player and in the spring she participates in track as a javelin thrower. But what she eats depends on the sports season.
"During volleyball, it's high protein and not as many carbs," she said. "You don't want as many carbs because there's not as much endurance needed."
For basketball season, Lisher eats more carbohydrates to help fuel her body. It's a lesson she's learned from her dad, Bob, who is Free State's head football coach.
For the most part, Bob Lisher said he lets his football players follow their own diets, but he does encourage them not to eat fatty foods right before a game.
"We do try to get together on game days as a team and have a team breakfast," he said. "The main thing we try to do is fuel them up so they're ready to play."
Copyright 2018 The Lawrence Journal-World. All rights reserved. This material may not be published, broadcast, rewritten or redistributed. We strive to uphold our values for every story published.