Imaginary elves living in stick-frame houses spoke Wednesday to fifth- and sixth-graders at East Heights School about the agony of bullying and the joy of friendship.
Student Dejanelle Lockett heard their message: "It's hard being teased."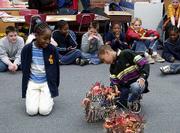 And if a person turns his back on a friend being bullied?
"It's not being yourself," admonished classmate Jamie Scott.
That elf wisdom about standing tall for decency in the face of peer condemnation, part of the play "Afternoon of the Elves," was delivered by Theatre of the Young People director Jeanne Klein and two of the play's actresses, Caitlin McDonald and Erin Burns.
The play adapted from Janet Taylor Lisle's award-winning children's book deals with child poverty and associated social challenges.
Lisle's story is about 11-year-old Sara Kate, who is shunned by a clique of schoolgirls. Hillary, a 9-year-old who lives next door to Sara Kate, becomes intrigued by Sara Kate's dilapidated house and her magical elf village in the back yard.
Sara Kate built stick houses and a Ferris wheel for the imaginary elves to fill her world with nonjudgmental characters. When Hillary comes to visit the elves, she learns Sara Kate is poor and secretly caring for her ill mother so state welfare authorities won't separate them.
"Sara Kate nurtures herself with creativity and imagination, and that's what keeps her alive," Klein said.
The director said Hillary learns from walking in Sara Kate's shoes.
In that vein, the theatre group performed scenes from the play to reinforce ideas about friendship, bullying, wealth and individuality. Lockett, Scott and other East Heights students also performed their version of those scenes to put themselves in the place of Sara Jane and Hillary.
McDonald, a Kansas University student from Bismarck, N.D., said performing as Sara Kate expanded her understanding of the damage caused by relentless bullying.
"I was teased when I was little," she said, "but it wasn't as intense as the variety faced by Sara Kate."
McDonald said the play taught her that people who were bullied constantly had to develop thick skins to survive, even if that included creating a fantasy world of garden elves.
It's important, she told East Heights students, for children to be strong so that every put-down doesn't rattle them to the core.
Klein said bullies like to see their victims squirm.
"Don't give them the pleasure," she said.
Copyright 2018 The Lawrence Journal-World. All rights reserved. This material may not be published, broadcast, rewritten or redistributed. We strive to uphold our values for every story published.