Several hundred Lawrence families could miss out on gifts and fixings for their holiday meal because of a miscommunication between a social service agency and its longtime volunteers.
For the past four years and up through Thanksgiving, volunteers from Lawrence-Douglas County Fire & Medical helped East Central Kansas Community Action Agency, or ECKAN, deliver holiday meal and gift bundles to more than 400 needy families.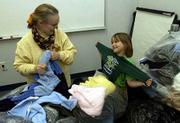 Eve Cofer, director/coordinator of Douglas County ECKAN, said she didn't know until Tuesday that firefighters couldn't help this year.
"We're in need of lots of volunteers because we have lots of families," Cofer said.
The agency served 414 families at Christmas last year. But Cofer said when she found out firefighters wouldn't be assisting this year, she stopped taking applications at 336 families.
"I felt it was very foolish to keep taking applications and maybe not be able to manage," she said. "I had a lot of clients really not happy, but what can you do? I feel bad and feel kind of like we let people down, but I don't know what else to do.
"I don't want to give Fire & Medical a bad rap. They've helped us in the past and always have been really gracious."
Until this year, the local firefighter's union has coordinated volunteers from among its membership to help ECKAN during the holidays. But the timing wasn't good for them this year, said Jay Stalcup, president of the International Association of Fire Fighters Local No. 1596.
"We have spread ourselves a little bit thin," he said. "We're trying to do some things for our members."
That means allowing them to spend more time with their own families. It also includes helping several firefighters who have their own needs this holiday season.
Stalcup said there was no intention to leave ECKAN hanging at the last minute.
"I thought that they were aware we couldn't help about a month ago," he said.
To meet the needs of families it already has committed to, ECKAN is turning to the Lawrence community for help.
"We very much need volunteers to set up and haul tables and haul miscellaneous gift items from different spots in town to the church," Cofer said.
The agency is looking for at least 30 volunteers to help from Dec. 10 to Dec. 14, Cofer said. Some will be asked to meet at 8 a.m. Dec. 10 at Trinity Lutheran Church, 1245 N.H., to set up tables and haul donated items to the church. More volunteers will be needed through Dec. 14 as adopted families pick up their holiday packages and the agency breaks down tables.
To donate time, even if it's just for a few hours on one day, call Cofer at 841-3357.
"It's all for a good cause," Cofer said. "It's to give people an uplift and help them have a good Christmas."
Copyright 2018 The Lawrence Journal-World. All rights reserved. This material may not be published, broadcast, rewritten or redistributed. We strive to uphold our values for every story published.